Stacey Morrison's tips on how you (and kids too) can get the most out of Disney on Ice.
One of the perks of parenthood is satisfying your inner child by taking your children to events that are seemingly "for the kids" but actually have your own 7-year-old-self jumping for joy.
Disney, in all its forms, has this impact on many adults. Disneyland, Disney movies, Disney on Ice; I've taken our kids to Disney on Ice as often as I could over the years and I admit to being as excited as they were, maybe even more, at the prospect of the latest show.
So, having been fortunate enough to take our three kids, aged 11, 9 and 5, to the Melbourne showing of Disney on Ice Celebrates 100 Years of Magic during their school holidays, I can tell you it was the adults who let out loud, collective sighs of nostalgia and happiness when the Lion King burst on to the ice.
I managed to contain my excitement enough to collect some big-show tips and insights to share.
ANTICIPATION IS PART OF THE FUN
Talking up the big event makes the fun last longer. Knowing that the big Disney on Ice show is coming up and "we'd better get to sleep nice and early so we can enjoy the show" is part of the anticipation. Bribery? I call it anticipation.
TALK IT UP, TALK IT THROUGH
As you're building up anticipation for the show, I've realised it's also a good idea to talk kids through what the show is going to be like: there will be ice, it will be cold, like inside Elsa's castle, there will be singing, ice dancing and so many of the characters you love. In other words, so much to see. Explaining what will happen seems to help kids because I've seen smaller children go into sensory overload when they come to these amazing shows where there's just so much to take in. Sometimes that means they glaze over, and for some kids, it's just too much and they can't keep it together.
SPEAKING OF LOSING IT
Leave plenty of time to get to the venue, park, and usher kids in. I learned this one the hard way, as I was nearly in tears the year I rushed to get from work to my daughter's Disney on Ice 7th birthday party. Big city traffic doesn't care that you're a busy parent trying to get kids to a show that means a lot to them.
SO NO ONE LOSES IT
Make a plan around what you will and won't buy there. The merchandise is enticing and many lucky kids walk around with Nemo-shaped cups of slushies and Mulan dolls. I've found that the most persistent of my children, in particular, reacts better when forewarned of what they will/won't or might have success in asking for.
AGES, STAGES AND TEMPERAMENTS
Some 4-year-olds come to shows like Disney on Ice and you can see they have found their HAPPY PLACE. They are completely zinging, engaged, wearing Princess outfits and singing along. A 4-year-old of a different temperament, though, will make the area around them not such a happy place if they are overwhelmed by the crowd and the darkened arena (although the ice stage is well-lit and bright). If the pre-schooler you're taking is not used to crowds, maybe expect to be carrying them to your seats so they feel comfortable. Speaking of stages, if you appreciate clever staging and set changes, there are some real treats for you in the Disney on Ice shows.
EXPECT TO FEEL REGRET THAT YOU DIDN'T BECOME AN ICE-DANCER
Watching Queen Elsa swish around the ice with gliding elegance singing Let it Go made me believe I should start lessons immediately, so I can quickly catch up to these former Olympic champion skaters.
COSPLAY FANS, IT'S YOUR TIME TO SHINE
Many people dress up as their favourite Disney characters for these shows, adults included. Part of the pre-show entertainment is in the foyer, people-watching. There are so many mini Snow Whites, Simbas, Minnies and Mickeys wandering around.
PEOPLE SING - JOIN THEM
Your inner child and any actual child with you will love it. I freely admit when the stadium echoed to the crowd singing along to songs from Beauty and the Beast, Aladdin and, of course, the massive Frozen hits, my eyes welled up a little. There's also an incredibly satisfying montage sequence that brought together so many favourites I was holding back a fist-pump.
Oh yes, I go to these shows for the KIDS ... All for the kids.
• Stacey Morrison travelled to Melbourne thanks to Disney on Ice.

TIPS FOR OVERSEAS TRAVEL WITH KIDS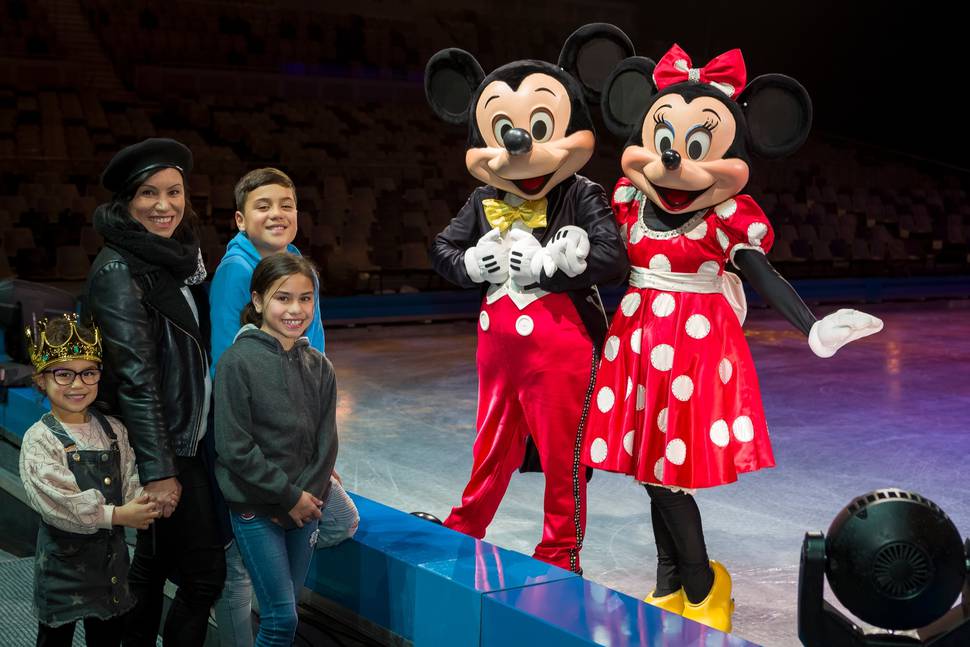 • Double check children's passports well before you fly; theirs expire after five years, not 10 years as adults' do. Also, the photo witness for your child will probably be rung for confirmation of how long they've known the child and asked to describe what they look like. Urgent processing costs more - I learnt this the hard way.
• Choose flight times that will help kids adjust to time differences and help them arrive at the airport feeling fairly rested and able to cope with waiting in queues.
• Check whether the airline you're flying with offers children's meals and whether you have to pre-book those meals.
• A small bottle of children's pain relief that fits inside your liquids bag won't be needed nine times out of 10, but it's the one time that you don't take it that they need it.
• When travelling long-haul with small children, don't expect to sleep a lot. I have lost feeling in arms and legs as I held kids in a good sleeping position across continents. If you can think of it as only one or two days out of your life, and worth it once you get to your destination, it might help.
• A packing shell or zip bag for each child's clothes makes it easier to pack and unpack - says the woman who hates unpacking slightly more than packing.
Lowdown
What: Disney on Ice
Celebrates 100 Years of Magic
Where and when:
Spark Arena, August 2-5