Peter from Cambridge writes: "Found in a wet weekend garage clean out, one former government-style swivel chair, surplus to requirements after abolition of the New Zealand Forest Service in 1987 (30 years ago, to the week). Perhaps new Minister Shane Jones would care for its return, as a memento and a nod to the foresters of old. The arm rests are (non-sustainable) rimu but it does have original fabric. Two new chums, destined for middle-management, await the call."
Mulch ado about nothing
"A decade ago I was congratulating myself after using a large, hired mulcher for six hours without mishap," writes Steve Jones of New Plymouth. "Given that I'm a Some-Mothers-Do-Have-Em type, I was impressed, but when I inserted the final load to be mulched my green loppers somehow found their way into the mulcher - crash, bang, wallop. Broken window, seven ruptures in the machine from flying metal (my neighbour was still finding metal a year later). Hire company charged me $700 for repairs, which I refused to pay, having been told on day of hireage how people managed to mangle things, but they kept my $100 deposit. The miracle was that, in my panic to switch it off, I had walked in front of the machine's rear, mulched end. Another of my many cat lives gone."
Sticky fingers texting
A reader writes: "My teen almost leapt out of his seat when I told him that Sticky Fingers, an Australian Indie rock band and his current favourite sound to rock out to, were coming to New Zealand in February. He texted his friends instantly - they were all amped about it and planning how to get tickets ... Then he looked up the link I'd messaged him and groaned. "Mum, that's Stiff Little Fingers, an old punk band."
Pink huntly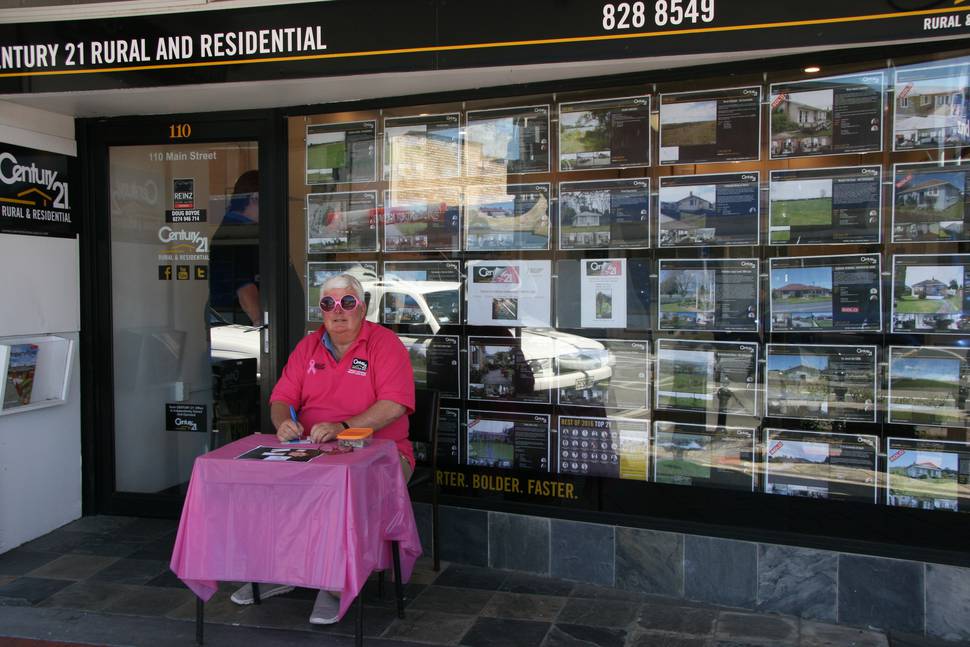 Doug Boyde, owner of Century 21 Rural & Residential (Huntly), paints a pretty picture selling raffle tickets in front of his office on the main drag, dressed in a pink polo shirt and wearing pink sunglasses for breast cancer awareness month, Pink October.
Avocado lovers - this job's for you
Millennials can put all their house-deposit frittering to good use. A Sydney restaurant is advertising on Seek for a 'Head of Avo Controller'. Good Fat wants to hire a professional avocado taster and the ad says the role involves tasting all 20 of their avocado recipes, testing the produce for firmness, and promoting the business on social media. Some of the items that'll be served include an avo smoothie served in its own skin, and an avocado flavoured ice cream they call 'Avocornetto'. Sounds like marketing for corporate avocado. Oh, wait ... it is. It's a 'pop-up' restaurant and it's unpaid. "The successful candidate will not get a salary, but instead, will eat free at the cafe for an entire month."
New Zealand's best Halloween costumes
1. Jaquie Brown is making whoopee.
2. An iconic kiwi comedian in small and medium size...
3. Dracula, Spider Gwen and a capitalist pig.
4. Ali Ikram as 'White Supremacist Dad'. Don't get it? Click here.
Video Pick
A taste of New Zealand short film, Fire In Cardboard City by Phil Brough, which won best NZ Short at Show Me Shorts on Sunday. Brilliant.