Ewan McGregor is living apart from wife of 22 years Eve Mavrakis, with whom he shares four children, the Daily Mail reports.
McGregor, 46, separated from French production designer Eve, 51, in May, months before pictures of the actor kissing "Fargo" co-star Mary Elizabeth Winstead in a London restaurant emerged, People reports.
The couple met on the set of court drama "Kavanagh QC" in 1995, shortly before the Scottish star's portrayal of heroin addict Mark Renton in Danny Boyle's "Trainspotting" won him international acclaim.
Speaking to the Graham Norton show in 2012, McGregor admitted he had slept with "many, many women" prior to meeting his wife.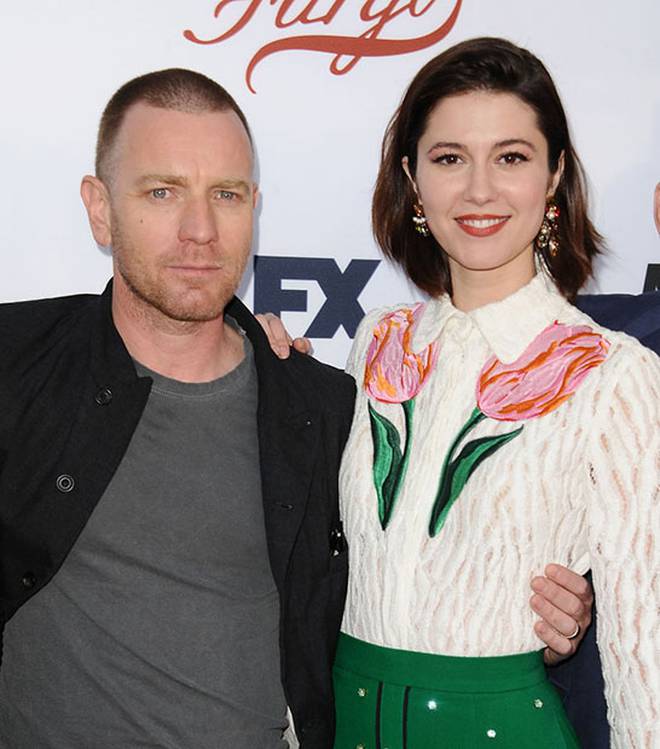 He explained: "I knew right then that I really wanted to be with her and I knew I wanted to be with her in a different way to all the other many, many, many women I had been with up until that point. And I wasn't wrong. I made the right choice."
The couple married in 1995 before relocating to Los Angeles, where they raised four daughters, including a child adopted from Mongolia.
McGregor has always denied rumours of romantic attachments outside marriage.
In 2001, he dismissed talk of an affair with Nicole Kidman, his co-star on "Moulin Rouge".
And in 2010, there were more unkind rumours of a relationship with French actress Melanie Laurent, his co-star on the film "Beginners".
MailOnline has contacted a representative for further comment.
McGregor appears to be seen kissing his "Fargo" co-star Mary Elizabeth in images obtained by The Sun.
The pair, who filmed a racy nude love scene in a bath for their on-screen romance in the most recent series of the show, were reportedly seen getting close during a meeting at The Good Life Eatery in London's St. John's Wood.
The father-of-four closed his eyes as he leaned in to share the intimate moment with Mary, 32, as sources told the publication they were "relaxed in each other's company".
Ewan smiled as Mary, who plays his sexy love interest Nikki Swango in the FX Network crime drama, took his face in both of her hands before going in for a kiss, in The Sun's images.
Sources revealed the father of four daughters didn't seem too worried about privacy as they dined together on the busy high street.
Onlookers told The Sun: "Ewan and Mary Elizabeth were there together and seemed relaxed in each other's company. The cafe was really busy with people coming in and out the whole time...
"They were deep in conversation and were there together for more than an hour. As they left she got on to the back of Ewan's motorbike and they sped off together."
Ewan and Mary's sighting comes four months after Mary split from her husband of seven years, Riley Stearns.
Sharing a photo of her kissing her Texan film director ex on the cheek on Instagram in May, the actress wrote in the caption: "We've decided to move on from our marriage, but we will stay best friends and collaborators for all our days."
"We are still ride or die, just in a different way now. I love you always, Riley.
"Sitting here with my best friend who I love with all my heart. We have spent our lives together and it has been full of joy and warmth every day."
Meanwhile, Riley, who Mary met aged 18 on an ocean cruise, shared the same photo on his Instagram with an equally touching tribute which said: "I'll always love you, Mary."
"Trainspotting" star Ewan plays two brothers, Emmit and Ray Stussey in the latest series of "Fargo".
The latter falls in love with Nikki before they plot to take revenge on his wealthy businessman brother.
The first episode of the third series, which aired in April, sees the loved-up duo Nikki and Ray kissing and cuddling while naked in a bath together.