To many, Kiwi actress Morgana O'Reilly will always be known for her role as Naomi Canning on Neighbours - business savvy, attention commanding, bossy; Naomi was a woman who knew what she wanted and always put herself first.
In real life, O'Reilly is nowhere near as demanding or scandal-ridden as her Australian alter ego, but when it comes to her first directing role, they do seem to have one thing in common.
"It feels really natural telling people what to do," she laughs as she relaxes after her final day of rehearsals.
Directing is just the latest step on O'Reilly's path to dominating the local theatre scene. She's already taken a solo show to the Edinburgh Fringe Festival, and last year gave a commanding performance as one of the leads of the sexual power play Venus in Fur.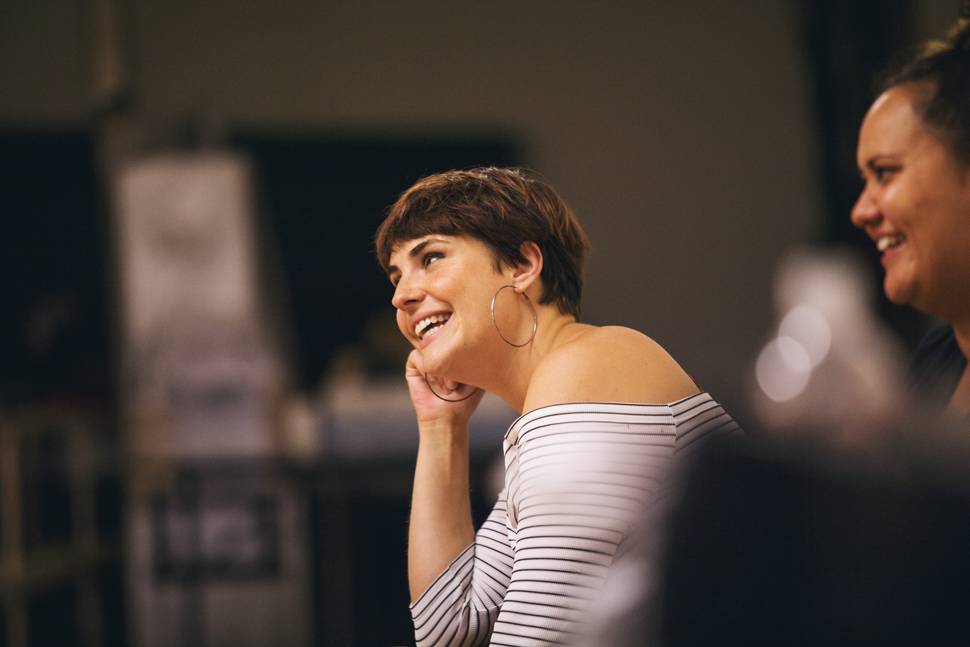 READ MORE:
• Miriama McDowell talks about her busy theatre schedule and meeting prison inmates
• 800 Words' Michelle Langstone on cold sets and being typecast
Now she has turned to directing, testing her skills with the mental health-themed family drama deVINE.
"What's so awesome about doing this is all my points of reference: my husband, my mother, my father, my training. When I said it feels so natural, I feel so armoured with all of their influence."
O'Reilly is directing the RECollective Theatre Company, made up of 800 Words star Cian Elsye White, Romy Hooper and Esmee Myers, on the story about a family brought back together to await a life-changing decision.
"I saw my role more as a coach to help them make the show that they wanted to make," O'Reilly says. "It's been really cool in finding the process that works for us and helping them find out how to collaborate."
The mental health themes in the play, which O'Reilly says comes naturally when tackling family dynamics, comes at a time the country is struggling to find a way to deal with.
"We're at the beginning as a community of how to tackle something like this. We're all really respectful when suicide has taken place and how we talk about it, but at the same time perhaps it is the lack of talking that could be the problem," O'Reilly says.
However, she says it was the company that drew her to the project more than trying to put out any one message.

"I was excited by the company and what they are trying to achieve and giving some theatre to people that need it. They aren't offering a solution, just an outlet. Just some f***ing art, which is nice."
The play, which will tour the North Island, is just the latest project O'Reilly has done that revolves around troubled, conflicted families. Her role in local horror-comedy Housebound followed the troubled relationship between a mother and daughter, themes she tackled again in Neighbours.
"I think it's because I find a family dynamic really interesting. All the things that aren't said, or the one thing that was sad that affects things 20 years down the track. It's an emotional equation, it starts to add up."
deVINE is the start of an epic year for O'Reilly. In August she will take on one of the most iconic roles of 20th century theatre, Stella Kowalski in Silo Theatre's production of A Streetcar Named Desire, and is looking to do more directing work alongside a new solo show.
With so much on, don't expect Naomi to cross Ramsay St any time soon.
"Look, no plans as yet," she says, bringing out her Australian drawl with a laugh. "I remember somebody saying to me while I was there was that you can never actually leave a soap. You can come back as an apparition, twin, amnesia, all of it! There's no escaping it!"
deVINE premieres at Auckland's Basement Theatre February 7 - 11. It tours Whangarei February 14 - 16, Kerikeri February 17-18 and Kaitāia February 21-23.