Melissa McCarthy has undergone the most dramatic of transformations for her newest flick.
Set to star in Can You Ever Forgive Me? as writer-turned-forger Lee Israel, the actress appeared unrecognisable in behind-the-scenes shots.
McCarthy was snapped wearing a cropped, greying wig and unflattering men's clothes in an effort to appear like the writer, who passed away in 2014.
The actress was shooting a scene where, dressed in a men's tweed blazer and maroon jumper, she accidentally drops a large pile of books.
The movie is an adaptation of Israel's self-described "memoirs of a literary forger."
Back in the 1970s and 80s, Israel was an extremely successful magazine writer, interviewing big-name entertainment figures including Katharine Hepburn and cosmetics tycoon Estee Lauder.
After Israel's journalism career started to dry up, she resorted to criminal activities.
By 1992, the writer had started forging letters from deceased writers and actors.
When her forgeries raised suspicions, she eventually began stealing real letters and autographs of deceased stars from libraries.
After baffling authorities and forgery experts, Israel was arrested a year later and was sentenced to six months house arrest for conspiracy to transport stolen property.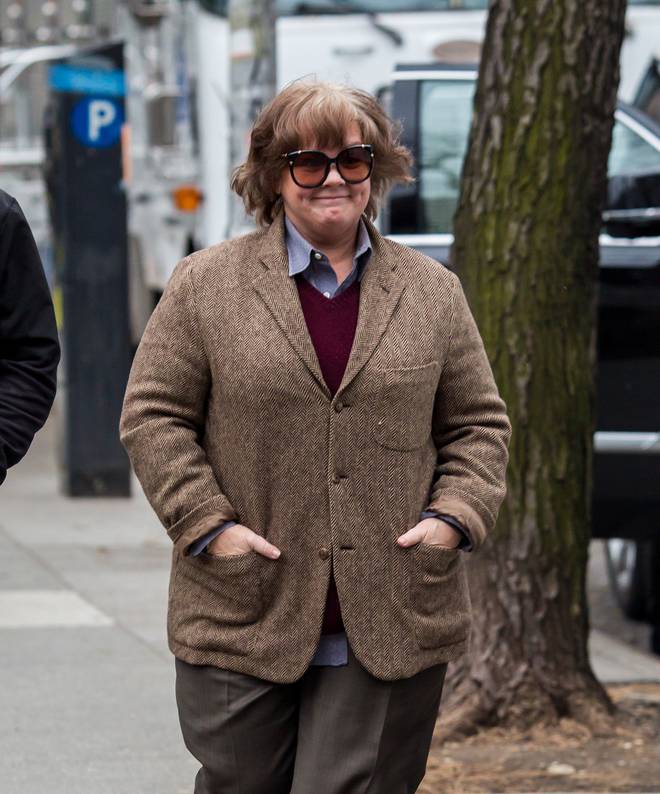 The author died in 2014 and Fox Searchlight were quick to pick up the film rights for her memoirs.
The film version was originally set to star Julianne Moore but according to Variety, she dropped out of the project a few months later due to creative differences.
McCarthy was confirmed to play Israel in May last year.
The usually stunning Melissa McCarthy was last seen at the People's Choice Awards where she won the award for 'Favourite Comedic Movie Actress.'
As well as her starring role in the upcoming biopic, the actress also had an extremely successful 2016.
Earning a whopping $33 million, Forbes named her the second highest earning actress of the year.