More than just a radio station, Radio Hauraki changed New Zealand society, former pirate John Monks tells Karl Puschmann.
The music started 50 years ago. It shouldn't have. With no radio licence and no permission to broadcast, Radio Hauraki began as essentially a criminal enterprise. Its intentions were noble: good guys setting the music free. Its means, however, were not ...
But laws, as criminals say, are made to be broken. And so it was in 1966 a ragtag crew boarded The Tiri, a small ship with a big aerial, and set about changing the face of New Zealand radio forever.
"Hauraki started because there was a frustration with the kind of radio that was around at the time," says John Monks, former pirate and author of Radio Hauraki: The Pirate Years.
"There was a government monopoly on radio broadcasting and the old New Zealand Broadcasting Service played only middle of the road stuff. If you wanted to listen to pop music there were only a couple of shows during the week or on the weekend.
"Of course the kids wanted more. And the NZBS wasn't providing what the audience wanted. When Hauraki came along it offered something completely different."
That difference was hits. With a focus on the country's Top 40 tunes Hauraki quickly became incredibly popular. But first they had to find a way to start broadcasting.
"You couldn't set up a land-based pirate radio station because the New Zealand Post Office had a department called the Radio Inspectors and they could easily track you down and force you off the air," Monks says.
So, to escape the laws of the land Hauraki took to the seas.
"Because you're broadcasting from international waters there are no laws. You're not breaking any laws because you're outside the country," Monk says.
"Pirate radio is bending the rules."
Of course being out in open waters is a dangerous place to be even for grizzled seamen, let alone a bunch of wannabe radio DJs. Some sweet deep-sea charting, however discovered a diamond in the rough sea.
"In those days there was a three-mile limit, although I'm sure it's changed now," Monk says. "But if you took a compass and drew a circle around the top of Coromandel Peninsula, then around Leigh, Great Barrier Island and Little Barrier Island you found a pocket of international waters that was actually inside the Hauraki Gulf. So that was the spot. We could broadcast from there. Outside the gulf would have been a lot more risky."
As they were playing the songs people wanted to hear Hauraki was immediately popular. Monks says the government did try to shut them down but "they didn't try very hard".
Although the Hauraki crew may have been pirates they were on a mission and took what they were doing seriously.
"The ultimate aim was to get a land licence so we had to show we were responsible broadcasters," Monks says as he explains that the station eschewed anything objectionable or risque.
"We had to show we would do a good job when we came ashore.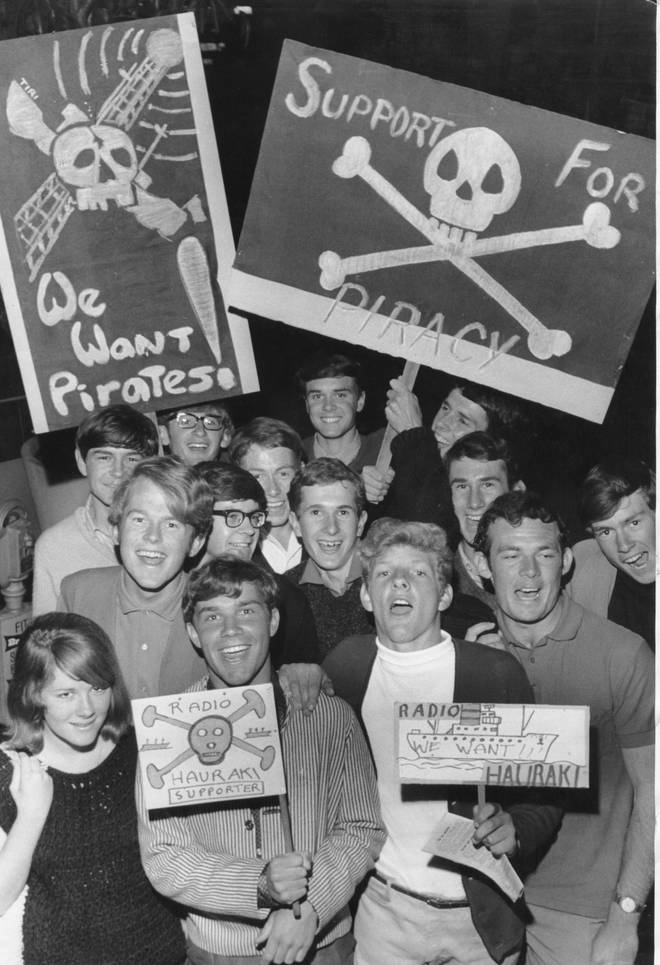 "It was an era full of adventure and risk but it was good times," he says. "We all kind of knew we were making history by trying to get the government to change the rules. In those days we were quite a socialist country, we had government-run radio, TV, railways, post office, airline, bus service... Hauraki came along and showed that the government didn't have to run everything. The sun would still come up on the morning if private enterprise was around.
"Ultimately we got our licence and I'm convinced Radio Hauraki changed New Zealand society overall. It set the wheels in motion for social change."
LOWDOWN:
What: Radio Hauraki's 50th anniversary
When: December 4
Plus: After 50 years, Radio Hauraki is embracing another change, officially adopting the correct Maori pronunciation of Hauraki on-air. The change will take place from Monday.