Much has been made of Johnny Depp's recent physical disintegration - the puffy cheeks, receding hair, expanding waist and yellowed teeth.
And in recent public appearances he has been shambling and apparently confused, too.
Yet his physical state may soon be the least of his worries as his lawyers gear up for a divorce battle with his wife of 15 months, Amber Heard.
Read more:
Why Amber Heard split from Johnny Depp
Amber Heard to divorce Johnny Depp
Indeed, those acquainted with the inside of this fractious marriage say the American actress has such a wealth of damaging information about Depp that his only possible course now is to open his wallet - and fast.
"This is potentially going to be an awful split," says one Hollywood insider. "Amber is already playing this shrewdly, and she has a lot that she can say."
Among the reasons she might cite for launching divorce proceedings - just three days after his mother died - might be Depp's apparently heavy fall off the wagon in recent years, and a number of what appeared to be drunken public appearances.
Already there is evidence of Heard beginning a PR campaign with a story planted in the celebrity magazine People, which asserted yesterday that she had "cold feet" even during their engagement party.
It seems her people are trying to paint the brief and stormy marriage, which began in February last year, as a mistake on her part. The couple are reported not to have signed a pre-nuptial agreement. And Heard has already asked for "spousal support" in her divorce papers - in other words, enough money to allow her to maintain the lifestyle she has enjoyed married to one of the biggest stars in the world.
Just to rub it in, she has also asked that he pay her legal bills. Depp's lawyer is fighting all this tooth and nail. And given that his lawyer is the indomitable Laura Wasser - who has acted in divorces for Angelina Jolie, Britney Spears and Kim Kardashian - Heard has quite a fight on her hands.
The actor will surely not forgive the fact that his wife has launched these proceedings so soon after the death of his mother, Betty Sue Palmer, at the age of 81. He was so close to her that he had her name tattooed inside a heart on his left arm.
It has been claimed that his relationship with Heard further deteriorated after he moved his ailing mother into their Los Angeles compound.
It is thought that his wife, a former model whose journey out of the small time was accelerated by her affair with the A-list actor, will end up with between $22 million and $76 million - a sizeable dent in Depp's $590 million fortune.
So what went wrong - and how has Depp, 52, managed to wreck his relationship with the woman for whom he left his long-time love, French actress Vanessa Paradis?
The answer, it seems, is that the union with Heard, 30, was never happy - or at least not for any length of time. There were reports of "screaming" rows while they were in Australia earlier this year.
And they split up at least once between starting to date several years ago and getting married last year.
There was also a period last spring when they were said to be barely speaking - because of his habit of going out partying. "He'll go days without calling or texting her ... he parties and it's caused huge fights," said In Touch magazine.
Depp and Heard met in 2009 when she was cast as his love interest in a movie called The Rum Diary. They were first romantically linked in June 2012, just as Depp was splitting from Paradis, his partner of 14 years, although rumours of a romance between him and Heard had been circulating, but had been denied, for some time.
By September 2012, Heard had dumped him - apparently finding him too possessive. But he was said to have wooed her back with a poem and a bouquet of roses sent every day. She then went with him on a break to his private island, Little Hall's Pond Cay in the Bahamas.
It was clear he was smitten, even "obsessed" by Heard, 22 years his junior, who has been described by one friend as being "a strong, out bisexual woman". Before she began dating Depp, she had a long romance with a female photographer named Tasya van Ree, and was also seen kissing Ringo Starr's lesbian stepdaughter Francesca Gregorini.
In May 2013, Depp bought a ranch in Nashville, Tennessee, for them to live on together, and by January 2014 they were engaged. He told an interviewer: "She's a wonderful girl. She's sharp as a tack. A southern belle and sweet as can be, and very good for me."
He even said he hoped they could have children together. "I love kids. I have two [with Paradis], and they're perfect. Man, I'd make 100. But I've got the easy gig, right?" he said.
The couple married in front of 24 guests on the beach on his island. It is surely significant that neither of Depp's children were there.
A source told TMZ that the couple ended up having an "extremely bitter" relationship because, it is claimed, his children, his two sisters and his mother "hated" Heard.
It seems not to have taken long for the marriage to start to unravel.
It is no secret that Depp greatly romanticises the lifestyle of his hard-drinking heroes such as Rolling Stone Keith Richards and the louche writer Hunter S Thompson.And it appears that after an initial period of mutual sobriety, Heard simply wasn't able to rein him in in the way that Paradis did. His hell-raising tendencies were formed during his vodka and cocaine years when he was dating Kate Moss in the '90s.
He was always a self-proclaimed "heroic" drinker. Interviewers would find him sitting in front of a $760 bottle of red wine, and keen to talk about how much he loved to booze.
Five years ago, though, just after making The Rum Diary, he started to talk for the first time about quitting drinking. He said that he and director Bruce Robinson had decided to go on the wagon to avoid any distractions. It didn't last.
In the summer of 2013 - a year into his romance with Heard - he told Rolling Stone magazine that he had been sober for 18 months.
He said: "I just decided that I'd pretty much got everything I could out of it. I investigated wine and spirits thoroughly, and they certainly investigated me as well, and we found out that we got along beautifully, but maybe too well."
He added that he believed he was not an alcoholic, but that he was someone who functioned better with a drink inside them.
He explained: "I don't have the physical need for alcohol. No, it's more my medication, my self-medication over the years to calm the circus. Once the circus kicks in, the festivities in the brain, it can be ruthless."
He didn't stay sober for long. By November 2014, he appeared on stage at the Hollywood Film Awards clearly intoxicated - swearing profusely and slurring his words.
He came on stage and declared: "That's the weirdest microphone I've seen in my life," and then stumbled through a tribute to a veteran talent agent. One scribe present said that it wasn't so much hell-raising, more just pure embarrassment.
Paradis was apparently furious at him making such a public fool of himself, and blamed his new fiancee for this state of affairs. "She blames Amber for his mid-life crisis," sources told a magazine.
His career had by now reached a ticklish point. Oscar-nominated three times, more recently he has starred in a positive flock of turkeys, including The Lone Ranger - a big-budget flop retelling of the TV series - gangland thriller Black Mass, and the peculiar comedy drama Mortdecai.
At the beginning of 2015, he flew to Australia to start work on Pirates Of The Caribbean: Dead Men Tell No Tales. Depp is of course Captain Jack Sparrow, played as a permanently befuddled drunk.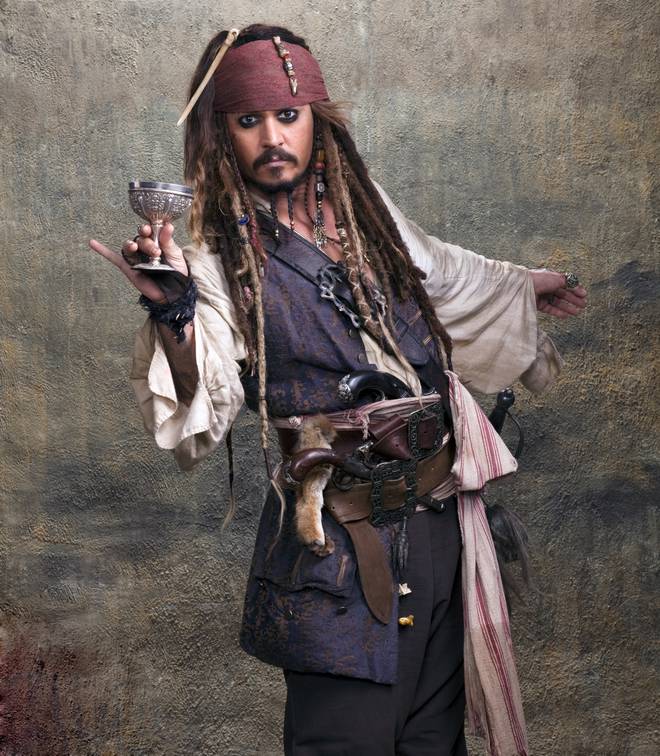 The performance is none-too-subtly modeled on the persona of Depp's pal Keith Richards. The filming did not go smoothly.
In March last year, around 200 workers were stood down from the set for a month while he underwent emergency treatment. The reason given was that he needed surgery on his right hand after injuring himself during a "wild weekend bender".
Some said that he had lost his temper when on the phone to Heard. They were arguing and he lashed out and hit a glass door, resulting in cuts to several fingers.
Others suggested he had snapped his wrist during a go-karting session on a private track at MotoGP world champion Mick Doohan's home. However, sources claimed in the local Press that the movie studio Disney had asked him to seek help for his drinking.
Martin Singer, Depp's attorney, denied the star had left the movie set for an alcohol-related issue, and demanded retractions all round. "The only rehab he went to was for his hand," said Singer.
It was around this time, in May last year, that the couple were caught trying to smuggle their dogs Pistol and Boo illegally into Australia on a private jet.
It caused a furore, with Australian agriculture minister Barnaby Joyce threatening to have the teacup Yorkshire terriers put down if they didn't "bugger off" back to America. In response, Depp later appeared to refer to Joyce as being "inbred with a tomato".
Talking about the episode in an interview, Depp made what some took to be a reference to drugs when he said with a smirk: "There might have been other things smuggled, but they seemed to miss that bit. There could have been."
(The upshot of the case was that last month Depp and Heard posted an excruciating video apologising for breaking Australia's quarantine laws, and advising travellers to respect them. Seemingly as a quid pro quo, the charges of illegally importing animals were dropped.)
Come July last year, with Depp back on the Pirates set, there were reports that his boozing and fighting with Amber was slowing down production horribly.
One website reported: "The production team in Australia is at their wits' end - millions of dollars over budget and months behind schedule, they blame it all on Depp and his wife. Since Johnny arrived in Australia to begin filming, Amber and his drama have been causing issues on set. At one point, Amber was reportedly even banned from visiting her husband at work.
"Johnny has been on set as little as possible, only fulfilling his contract at the minimum level - and his mood has been completely affecting the whole operation of the production.
"Producers are worried that morale will be affected."
Towards the end of last year, he skipped the premiere of the film Into The Woods, with reports that producers allowed him to forego all publicity because of "concern over his privacy".
In January this year, when he attended the Palm Springs Film Festival, there was yet more adverse publicity. One onlooker told the celebrity website Radar Online: "He was very friendly but almost unrecognisable!
"His hair was a greasy mess, and his teeth were yellowed, too. It was pretty shocking. He looked more like Marlon Brando [who ballooned to more than 20st before his death] than Johnny Depp!"
He was seen going from table to table chatting to other guests, but when called to the stage to accept an award, he mumbled: "How was the beef?" and appeared confused.
And in London this month, promoting Alice Through The Looking Glass, there was more of the same. Sources said that he was "hard to control" at a photocall - he certainly neither looked nor acted like his old self.
His last public appearance with Heard was last month in that now-notorious apology video. After that, it's said they spoke only through lawyers.
The question now is how on earth he is going to cope with what is shaping up to be a vitriolic - and expensive - divorce.
Sadly for this often brilliant and once-beautiful actor, his mid-life crisis appears to have been little short of ruinous.