They say "you can't beat Wellington on a good day".
But according to one brave cyclist, you can't beat Wellington on a bad day either.
Hilarious footage has emerged of an ingenious Wellington cyclist riding along Taranaki St while wearing a bizarre DIY raincoat on Monday.
In videos posted to social media, the cyclist is seen riding through the city with a giant cardboard box sheltering them from the heavy rain, with a tiny front window cut out for visibility.
The cardboard box covers the full length of the bike, allowing the rider to stay completely dry while still being able to pedal.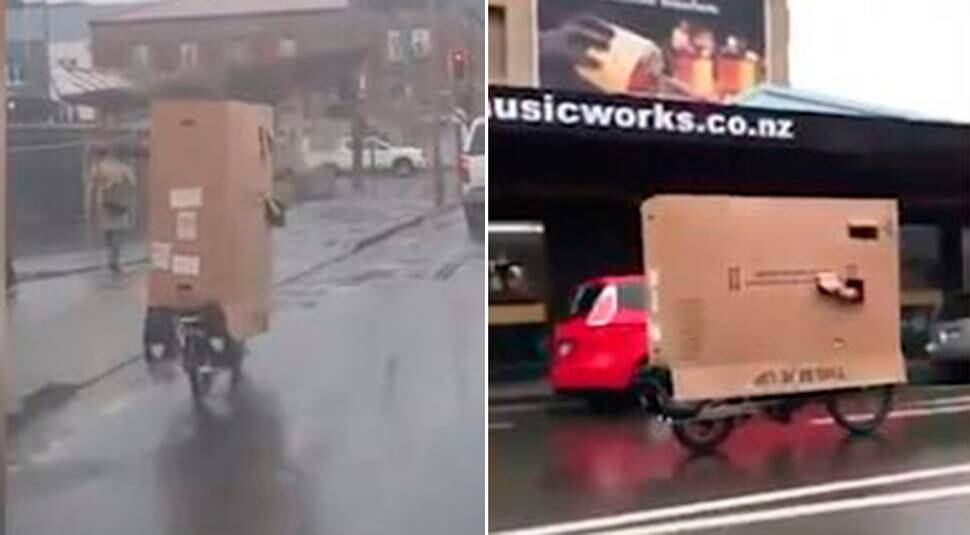 The genius cyclist has been spotted numerous times with the large box, sending Wellington social media users into a frenzy.
Wellingtonians joked, saying "Maybe I'll do this instead of finding a flat, looks much cheaper" and "when you can't afford public transport".
Others suggested the raincoat hack was "Kiwi ingenuity at its finest" while another person said "it's great to see the Onzo concept really taking off".
The videos have received more than 4000 reactions.