Auckland has slipped sharply down ASB's Regional Economic Scoreboard as the housing market slows and capacity pressures limit growth in tourism and construction.
Auckland slipped four places to rank 13 out of 16 regions for economic performance in the last quarter of 2017 according to the survey which measures growth in house prices and sales, construction, employment, wages, guest nights, retail sales and car sales.
Auckland was one of only three regions to experience both falling house sales and prices.
While the "no vacancy" signs up at hotels were good news for existing operators they were acting as a deterrent to additional visitors.
The Tasman region took out the top spot in the survey with solid growth across housing, retail and car sales.
Tasman's population appeared to be acting on the highest levels of consumer confidence in the country, ASB economics team said.
Marlborough was the biggest riser - up seven places to third with increased construction and retail spending.
The Waikato also saw a rebound - up six places to eighth with a stronger labour market underpinned by growing tourism numbers and a healthy milk price boosting agricultural incomes.
Northland also rose three places to seventh in the rankings.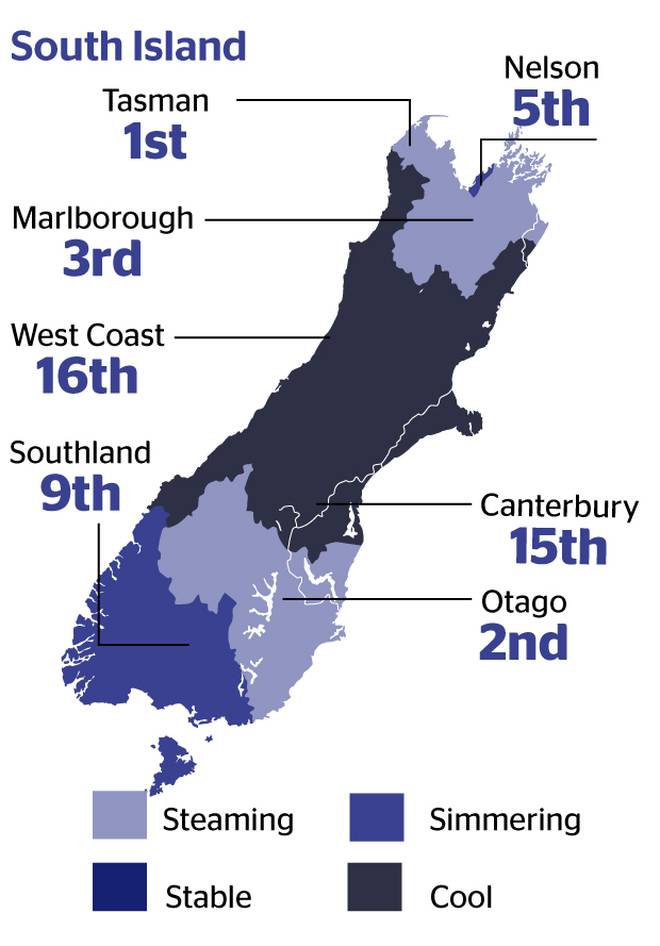 On the one hand the region delivered the best employment growth but that had not translated into housing market activity - where the annual percentage fall in house prices was the largest in the country.
Meanwhile, the Bay of Plenty was the biggest loser across the quarter dropping nine places. Housing affordability stood out as a big negative for its economy, the report said.
Tauranga has been ranked as New Zealand's least affordable city.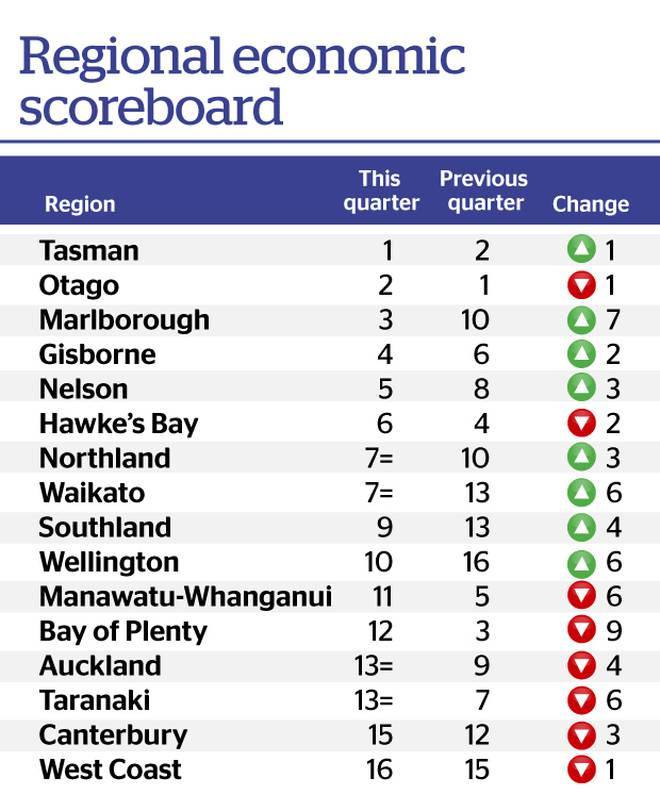 Canterbury dropped to second-to-last in the rankings. In particular, employment growth was soft over 2017. That softness translated into weak annual growth in retail spending and car sales.
However, there had been 'good news' on several fronts that may lead to an acceleration in activity in the region over 2018, ASB said.
The re-opening of the Kaikoura road link was likely to boost activity in the Canterbury region too.
Also the green light for some flagship rebuild projects was likely to further boost confidence as it had with the opening of new retail and commercial projects in the CBD.
Wellington - which rose six places to 10th in the survey - was also expected to keep rising through 2018, largely on the back of a firing housing market.
On a nationwide basis the report noted that retail sales had been the star performer of the economic measures at which it looked.
Employment had been strong with the national economy adding nearly 100,000 jobs in 2017, though wage growth remained sluggish.
New car sales remained high with 8 per cent growth in 2017.