Hailed as the "sexiest ship at sea" the new luxury cruise liner Seabourn Encore is making its first voyage to New Zealand.
A two-week stay costs up to $40,000 aboard the 604 person-capacity vessel and the typical passenger is 66 years or older - and affluent.
The ship features restaurants from Michelin-starred chef Thomas Keller (whose New York restaurant costs $325 a head), a wellness programme designed by a celebrity doctor, star guest speakers (Julia Gillard will be on board during the Australian leg later this year), bars, pools, a casino and 12 viewing decks.
And its captain lives in Christchurch.
Mark Dexter joined the Seabourn Encore in December when it was still being built in a Venice shipyard.
"She's absolutely beautiful, an amazing ship. I had the pleasure of bringing one of her sisters, the Seabourn Odyssey, home in 2010. I'm absolutely delighted to bring this one home as well."
Prices range between $15,799 and $40,299 for the all-inclusive 16-day New Zealand and Australia tour.
The ship will be in Milford Sound on February 9. It then heads up to Auckland for a new tour on February 18.
But it is home port in Akaroa that Dexter is most excited to sail into in mid-February.
Dexter married a Kiwi woman 30 years ago and moved to Christchurch from England in 2006. But it wasn't the first time he had been to New Zealand.
In 1980 Timaru was the first port the 19-year-old cadet officer visited as a seaman, loading frozen mutton and lamb for the European market.
"I just started out at sea learning the ropes. I never thought I'd be taking a ship like this into Timaru. I've come full circle."
"And it's always special when you bring a ship to your home port. The welcome is absolutely fantastic."
Guests on board the luxury cruise liner are spoilt for choice in terms of food with The Grill - by chef Thomas Keller, who holds seven Michelin stars over three restaurants - one of the many eateries on board.
Lyricist Tim Rice and Belinda King will be providing entertainment aboard the ship during the New Zealand leg and a spa and wellness programme designed by medical pioneer Dr Andrew Weil is also available to guests.
Some of the quirkier services available include sunglasses-cleaning by pool staff, white-glove service at afternoon tea and bespoke samphire and eucalyptus bathroom products by Molton Brown.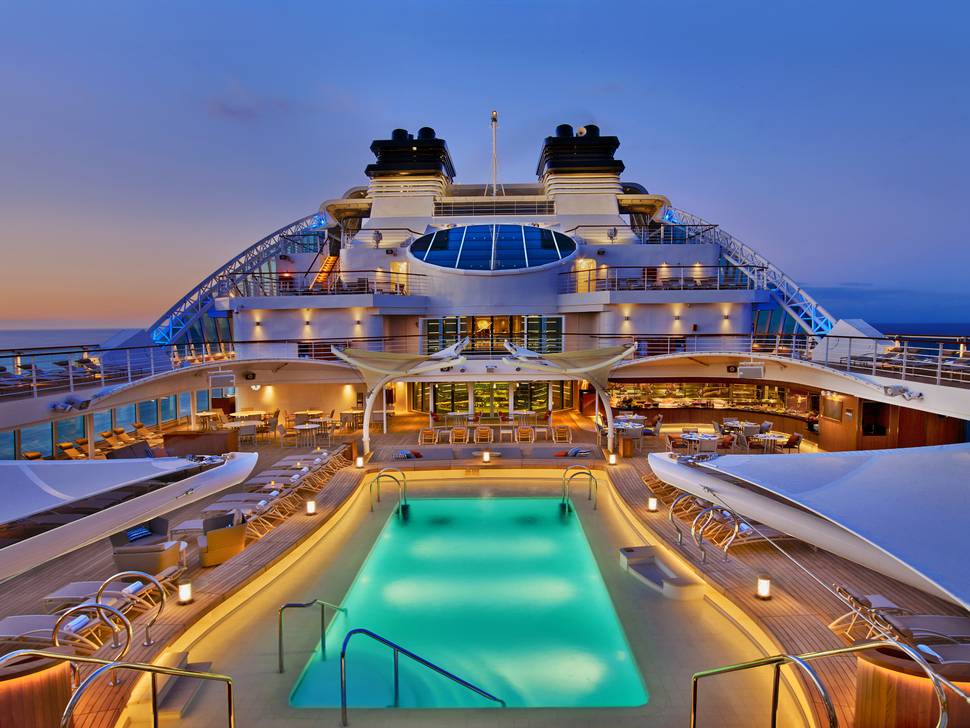 Dexter said all food and alcohol were free so no one had to worry about who was paying and the free booze "very rarely" caused trouble.
And it clearly attracts a loyal clientele - up to 80 per cent of the passengers are repeat bookings.
Dexter's favourite area on the ship is a spot called Seabourn Square - the "social hub" of the vessel. It tends to be where most of the guests congregate on their days at sea and you'll find Dexter having a coffee by the roasting machine when he needs a break.
The captain gets plenty of time to mix and mingle too - he has his own table he can invite guests to dine at.
"The sort of guests you have on board are professional people who've had success in life. They're paying for that service and atmosphere.
"I've met astronauts, airline pilots, submarine commanders, politicians, senators, all sorts. It's such an amazing job. I count my blessings every day."