The largest container ship to visit New Zealand waters, the MV Aotea Maersk, will visit Port of Tauranga tomorrow morning.
The 9500 TEU (20ft equivalent units) vessel is the first call in a new direct service from Asia announced in July by Maersk Line, the world's largest container shipping company, and Kotahi, New Zealand's leading export supply chain collaboration.
The vessel is expected to dock about 11.25am tomorrow.
The port call is an extension of Maersk's Triple Star service from South America to North Asia.
Tauranga will be the only port call for the new service, which is seen by Port of Tauranga's chief executive Mark Cairns as validating its hefty investment in dredging the port in order to handle larger ships.
The port recently completed the final stage of dredging as part of a $350 million capital investment programme to develop the infrastructure to become a port capable of handling larger ships.
"We are pleased to see that our upgraded infrastructure will be utilised so promptly," Mr Cairns said when the service was announced.
New Zealand had traditionally not had enough cargo to warrant big ship visits but the South America to China route enabled Kiwis to piggyback off the needs of bigger exporters, he said.
Kotahi chief executive David Ross, also speaking when the service was announced, said it was fantastic that it was being delivered in a shorter time frame than originally envisaged.
"The arrival of larger ships to our waters is a key milestone for New Zealand on its journey to become a more efficient export nation," he said.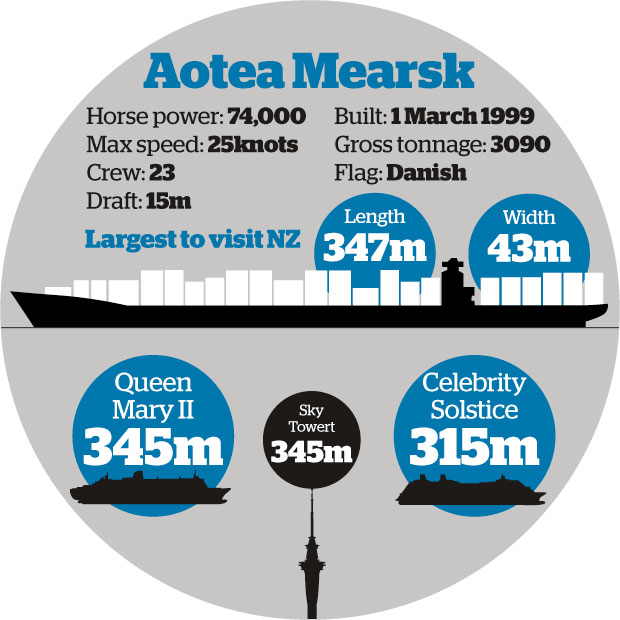 MV Aotea Maersk
• The new generation 9500 TEU vessels are more fuel efficient on a per-container basis and will reduce the carbon footprint of the ocean freight component of New Zealand exports by a minimum of 22 per cent per container unit, compared to the existing New Zealand industry average.