It's not just Aucklanders scrambling to afford property - median values for suburbs in Tauranga, Rotorua and Hamilton continue to climb.
Qv.co.nz statistics released today reveal median values in each of Tauranga's 17 suburbs have increased by at least 20.5 per cent in the year to June.
Rotorua and Hamilton have both had increases of 17 per cent in all of their suburbs. But only seven of Auckland's 167 suburbs experienced a rise in values of more than 20 per cent.
Roughly two-thirds of the Super City's suburbs had gains of 15 per cent or less.
A mass exodus from the country's biggest, and most expensive, city has been a hot topic in property circles for some time and the latest statistics show there is no sign of things slowing down, especially in areas where home buyers haven't traditionally looked.
Senior research analyst Nick Goodall said Aucklanders deciding to head out of the city to buy had contributed to the growth in property prices in once unpopular areas.
"Whenever a market is doing well, the lower end tends to do even better and generally there's more demand for the lower-value areas.
"They're attractive to first-time buyers as well as investors, who make up a larger percentage of purchasers in any market."
Not far behind Auckland, Whakatane, Waikato, Western Bay of Plenty and Wellington have all had increases of more than 10.5 per cent in each of their suburbs.
In Auckland the number of $1 million-plus suburbs has climbed to an all-time high, with 90 this year compared with only seven in 2007.
Goodall said a growing number of Aucklanders had turned to Tauranga in search of a cheaper property.
They made up 9 per cent of all housing buys in the port-side city last year, compared with about 4 per cent throughout 2014.
Tauranga's top three suburbs in the year to June 30 were Parkvale, which was up $103,400 (35.5 per cent); Greerton, up $119,500 (35.2 per cent) and Gate Pa, where prices rose by $102,050 (33.8 per cent).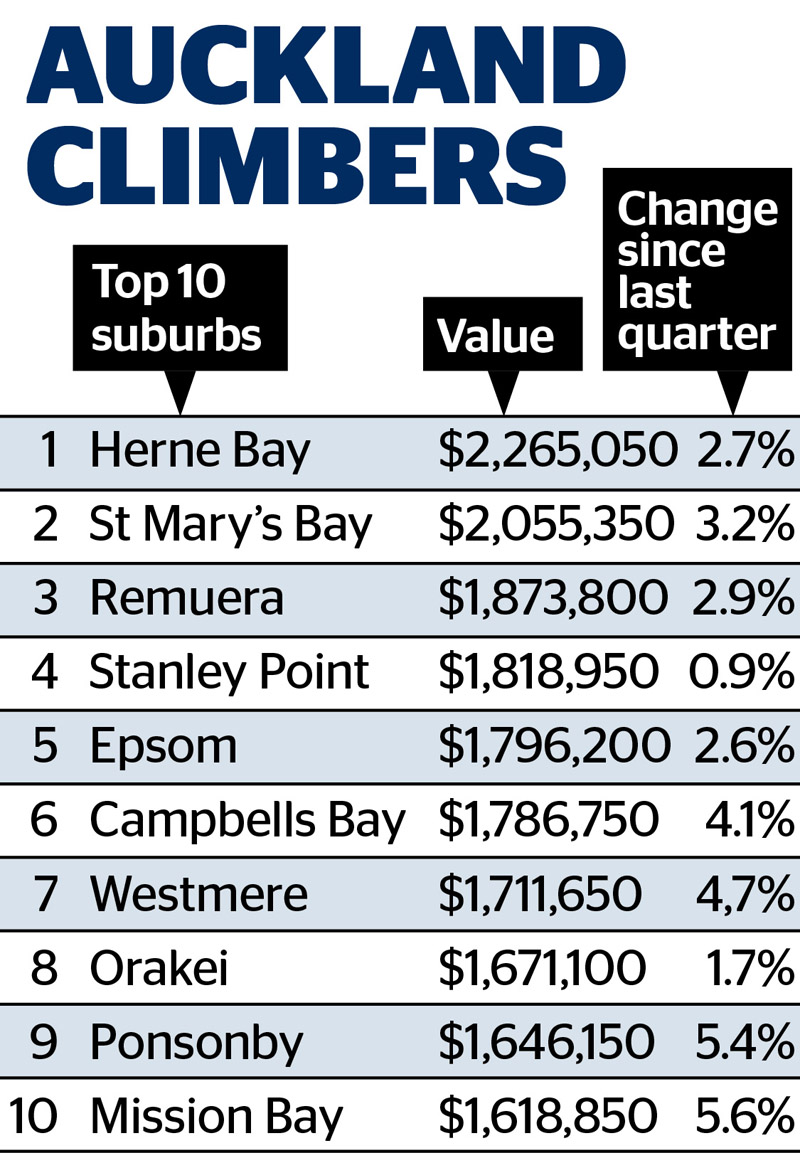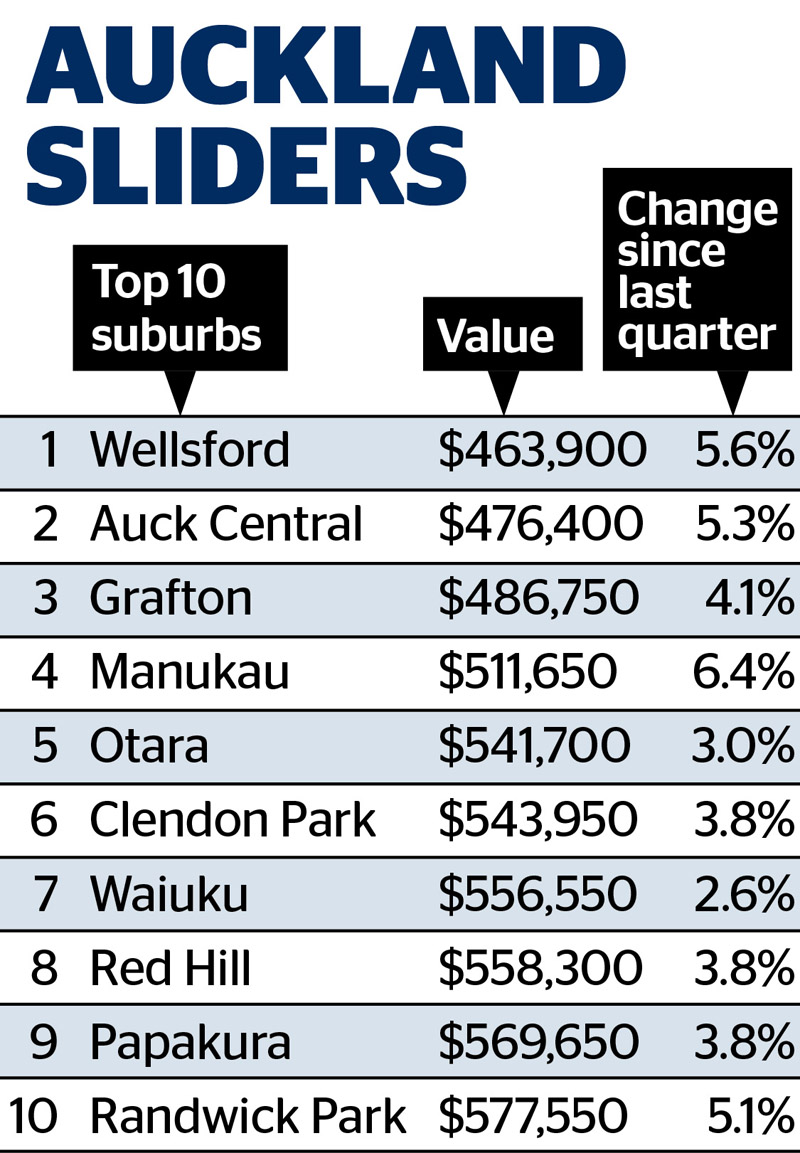 Harcourts Tauranga joint managing director Simon Martin said the increased demand for housing combined with dwindling supply had pushed prices up. "The other part is that with interest rates being so low, people can afford to pay more for their property, which also makes the median price move up."
However, Martin said Harcourts was now seeing a slight drop in demand in response to the banks beginning to tighten loan to value ratios ahead of the 40 per cent restriction being imposed on property investors from next month.
In Rotorua, the region which saw the second highest growth in median value, up 17.8 per cent in the year to June 30, traditionally unpopular suburbs were leading the charge.
Mangakakahi was up $52,000 (27.8 per cent), Western Heights up $46,050 (27.1 per cent) and Koutu up $44,000 (26.3 per cent).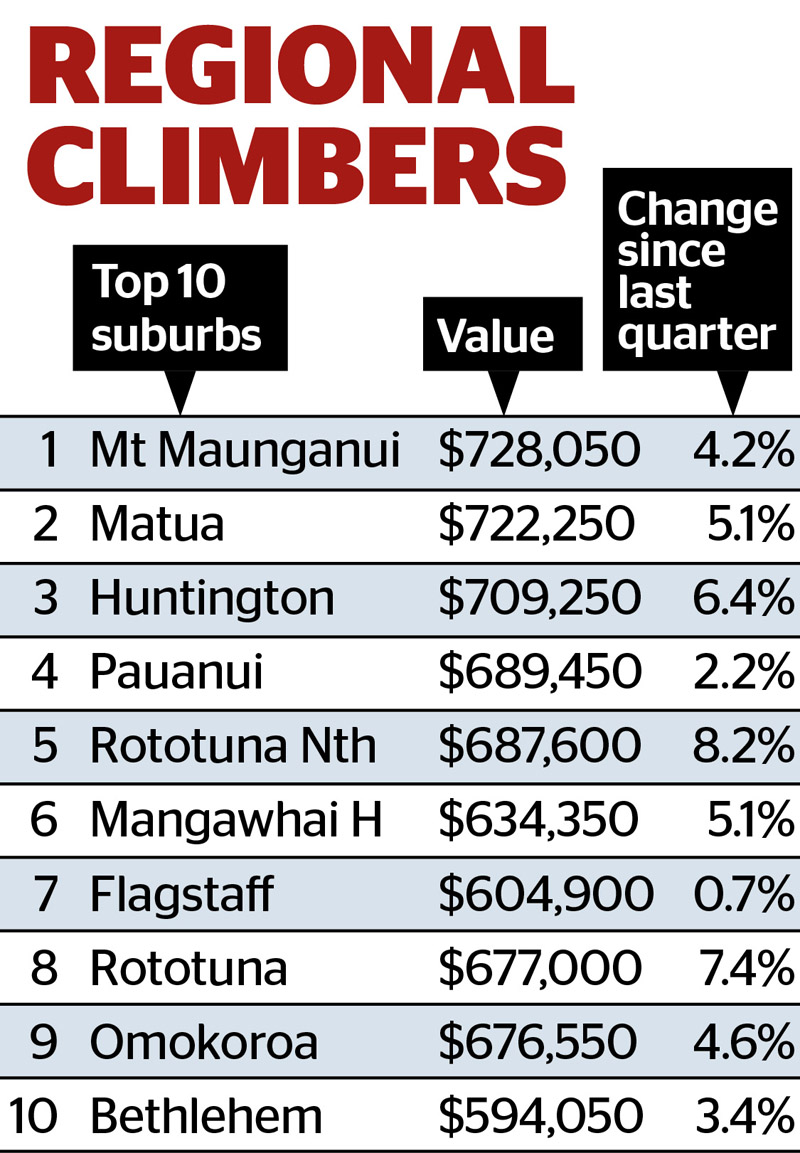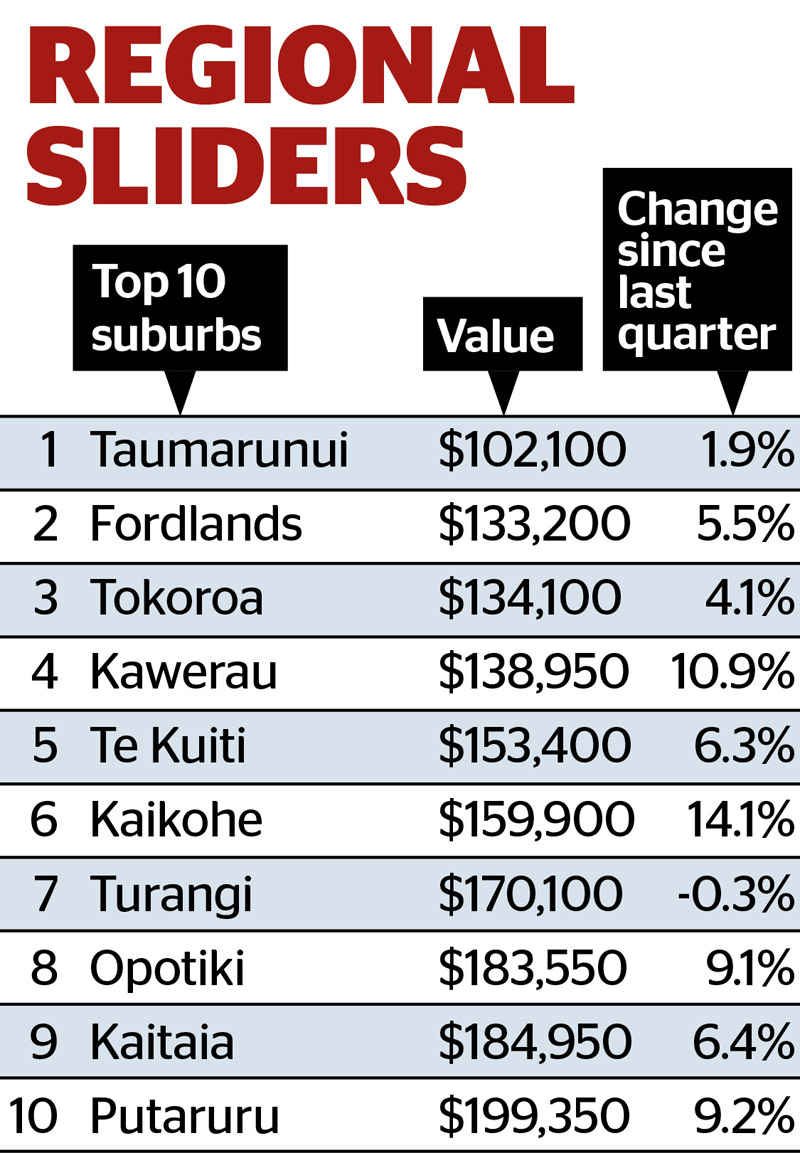 Hielke Oppers, principal real estate agent at Harcourts Rotorua, said the increase in the value percentage in the "lower spectrum areas", such as Western Heights and Mangakakahi, would have been pushed up as a result of supply and demand.
He said this would have been driven in particular by the growing numbers of first-time home owners, many of whom took advantage of the KiwiSaver scheme, increased rental prices and outside investors.
Steve Lovegrove, the owner of McDowell Real Estate Professionals Rotorua, said areas such as Western Heights and Koutu were popular choices for investors and first home buyers.
He said staff at his company were seeing cases in those areas of older generations helping younger generations get into the homes.
However, he said that although Rotorua was an attractive option for investors, buyers wouldn't be able to get a "real bargain" as would have been expected a year ago.
Ray White Rotorua co-owner Anita Martelli said the smaller city provided a great lifestyle choice for many Aucklanders.
"They just want to come here for the lifestyle, plus they can buy an investment property as well," Martelli said.
- Additional reporting: Rotorua Daily Post, Bay of Plenty Times