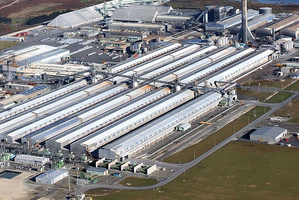 Prime Minister John Key says the Government will offer no more than the short-term subsidy offered last week to keep the Tiwai Point aluminium smelter open.
Rio Tinto - which owns just on 80 percent of the 41 year-old smelter, rejected a short term subsidy offer over Easter weekend, saying it needed a long term deal and was returning to talks with its supplier, Meridian Energy.
Key confirmed the smelter contracts lock Rio into paying for power for the next three years, whether they use it or not, and that there is a two and a half year wind-down period.
The smelter directly employs around 750 people, accounts for about 10.5 per cent of economic activity in Southland, and contributes export earnings from the shipment of high grade aluminium from the port of Bluff to international markets.
What should the Govt do to ensure Tiwai Point doesn't close?