California is in a desperate race against time to drain up to 15-metres of water from the stricken Oroville Dam before a storm hits Thursday (NZ time).
Almost 200,000 people were frantically ordered to evacuate along a 6.5km stretch of the Feather River below the dam after authorities said its emergency spillway could give way.
A gaping 76m chasm in it was expected to collapse and unleash a 9m 'tsunami' tidal wave that could have killed thousands and left nearby towns under 30m of flood water, according to the Daily Mail.
Tens of thousands of panicked residents took to the freeways, causing total gridlock on the roads and sending anxiety levels soaring as they wondered if the dam would burst while they were sat in their cars.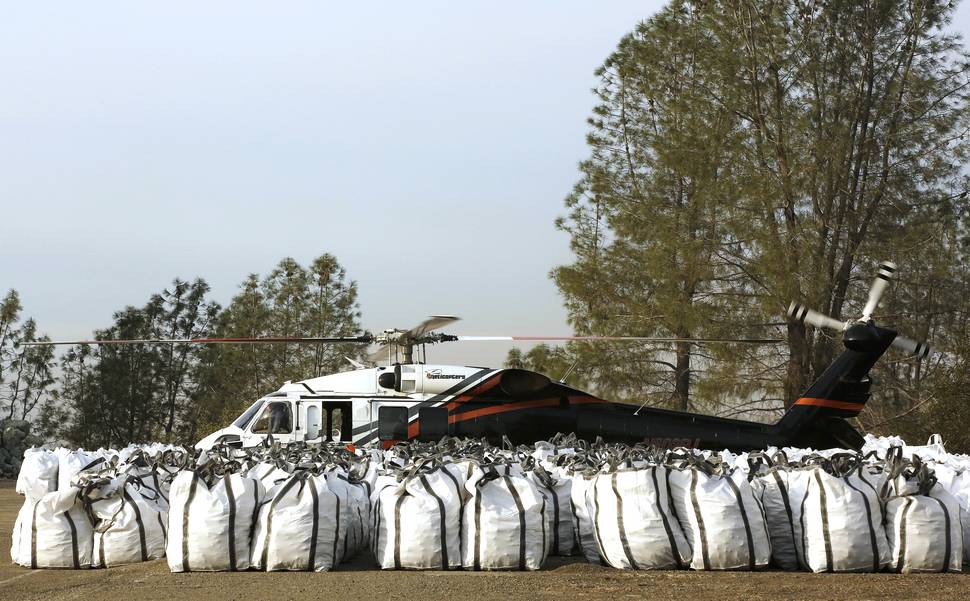 Butte County Sheriff Kory Honea said the evacuation below the nation's tallest dam will not end right away.
He added that they are working on a plan to allow residents to return home when it's safe - but could not say when that will be.
Honea also said more than 500 Butte County jail inmates were safely transferred to Alameda County Jail farther south.
And as officials rushed to release water from the dam and fix the spillway, the empty abandoned cities resembled ghost towns after the forced evacuations.
However, while the situation seemed less dire by this morning, it is still critical and the evacuees were told they could not return to their homes because the coming storm might still destroy part of the dam.
Meteorologists are predicting the rain to begin on Thursday last week, dumping up to four inches by Friday morning (NZ time) with more to drain from the mountains during the day.
Today, emergency crews prepared loads of rock to be dropped by helicopters to seal the crumbling spillway that threatens to inundate communities along the Feather River in Northern California.
Local crews were seen in dump trucks dropping off piles of rock, which were then loaded into the bags with backhoes. The operation to close the gap would begin as soon as it was feasible, authorities said.
The crisis suddenly and dramatically began on yesterday afternoon when the Department of Water Resource said the spillway next to the dam was "predicted to fail within the next hour".
However, it has remained intact.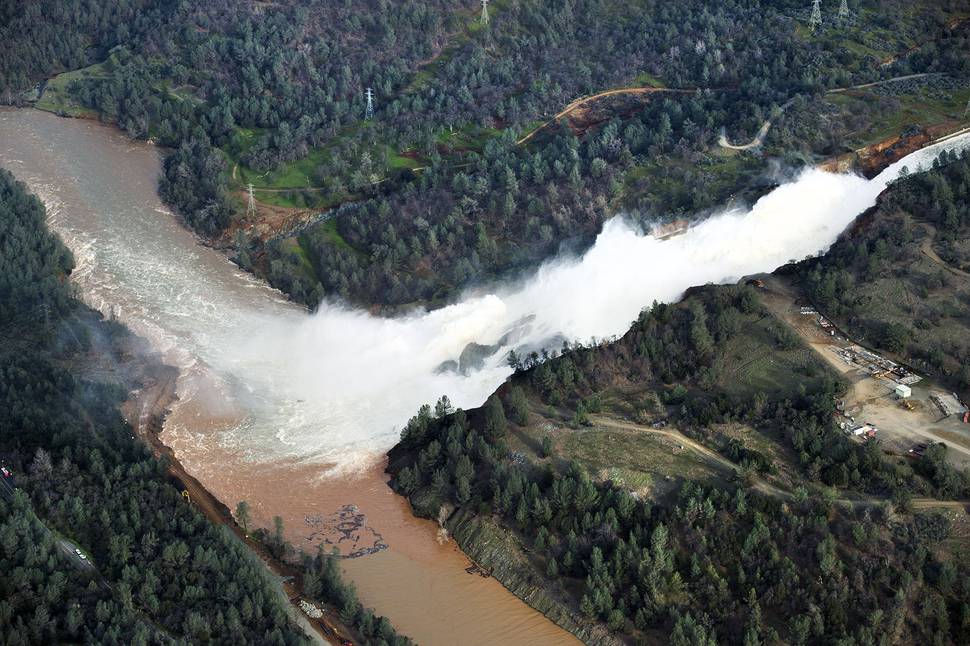 Overnight, state and local officials said the immediate danger had passed with water no longer flowing over the eroded spillway but they cautioned that the situation remained unpredictable.
"Once you have damage to a structure like that it's catastrophic," acting Water Resources director Bill Croyle told reporters. But he stressed "the integrity of the dam is not impacted' by the damaged spillway.
The state Department of Water Resources wants to drain 1.2 million acre feet of water from Lake Oroville at the dam before Wednesday's storm.
They said that the capacity of the reservoir, which is the second largest in California, is about 10,000km.
Currently, the water level of Lake Oroville is dropping at a rate of roughly three- to four-inches per hour, according to the agency. Which would put it on course to fail to reach its target of 15m by Wednesday (Thursday NZ time).
The department said authorities were releasing water to lower the lake's level after weeks of heavy rains in drought-plagued California.
The water level in Lake Oroville rose significantly in recent weeks after a series of storms that dumped rain and snow across California, particularly in northern parts of the state.
The high water forced the use of the dam's emergency spillway, or overflow, for the first time in the dam's nearly 50-year history on Saturday.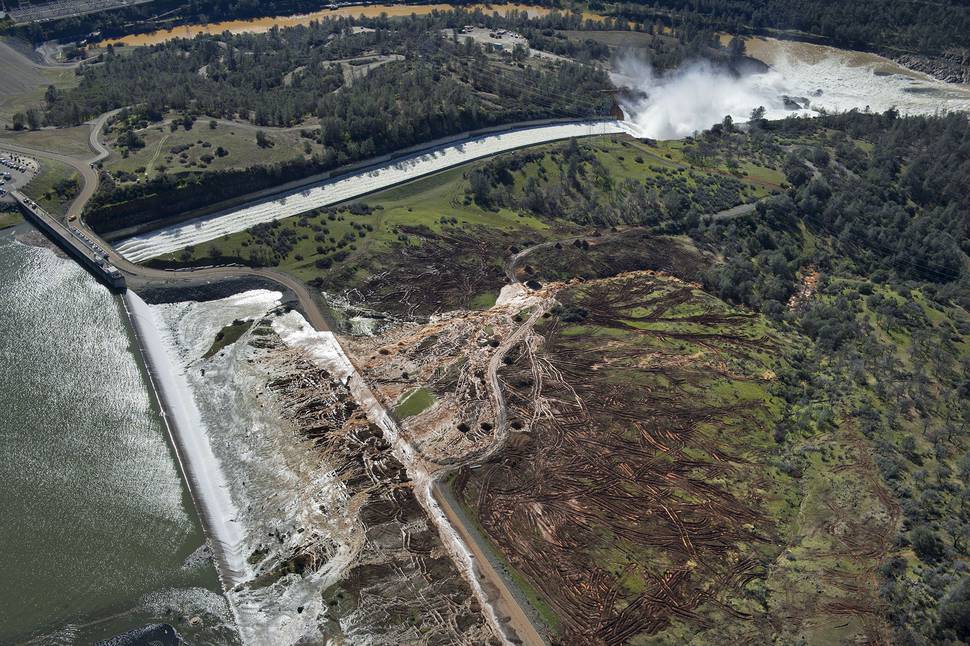 Officials said they feared the damaged spillway would unleash a 30-foot wall of water on Oroville. They said evacuation orders remained in place for some 188,000 people in the area and are still in place.
The Yuba County Office of Emergency Services urged evacuees to travel east, south or west. 'DO NOT TRAVEL NORTH TOWARD OROVILLE,' the department warned on Twitter.
Evacuation centers were set up at a fairgrounds in Chico, California, about 20 miles northwest of Oroville, but major highways leading south out of the area were jammed as residents fled the flood zone.
Javier Santiago, 42, fled with his wife, two children and several friends to the Oroville Dam Visitors Center in a public park above the dam and the danger zone.
With blankets, pillows and a little food, Santiago said: "We're going to sleep in the car."
With more rain expected Wednesday and Thursday, officials were rushing to try to fix the damage and hoping to reduce the dam's water level by 15m ahead of the storms.
The sudden evacuation panicked residents, who scrambled to get their belongings into cars and then grew angry as they sat in bumper-to-bumper traffic hours after the evacuation order was given.
Raj Gill, managing a Shell station where anxious motorists got gas and snacks, said his boss told him to close the station and flee himself. But he stayed open to feed a steady line of customers.
"You can't even move," he said. "I'm trying to get out of here too. I'm worried about the flooding. I've seen the pictures - that's a lot of water."
A Red Cross spokeswoman said more than 500 people showed up at an evacuation center in Chico, California.
The shelter ran out of blankets and cots, and a tractor-trailer with 1000 more cots was stuck in the gridlock of traffic fleeing the potential flooding Sunday night, Red Cross shelter manager Pam Deditch said.
A California Highway Patrol spokesman said two planes would fly today to help with traffic control and possible search-and-rescue missions.
At least 250 California law enforcement officers were posted near the dam and along evacuation routes to manage the exodus and ensure evacuated towns don't become targets for looting or other criminal activity.
Butte County Sheriff Kory Honea said a lot was still unknown.
"We need to continue to lower the lake levels, and we need to give the Department of Water Resources time to fully evaluate the situation so we can make the decision to whether or not it is safe to repopulate the area," Honea said.
About 188,000 residents of Yuba, Sutter and Butte counties were ordered to evacuate.
Acting Director Department of Water Resources Bill Croyle said officials will be able to assess the damage to the emergency spillway now that the lake level has come down.
It comes after it emerged amid the frantic evacuations that federal and state officials and some of California's largest water agencies rejected concerns 12 years ago about the precarious state the dam - which was built between 1962 and 1968.
The dangerous situation sparked the California National Guard to put out a notification to all 23,000 soldiers and airmen to be ready to deploy if needed.
The last time an alert for the entire California National Guard was issued was the 1992 riots.
"I'm just shocked," said Greg Levias, who was evacuating with his wife, Kaysi, two boys and a dog.
What they couldn't fit in their trunk they piled as high as they could in their downstairs Yuba City apartment and joined the line of traffic attempting to leave the city where they had moved just three weeks ago.
State Fire and Rescue Chief Kim Zagaris said at least 250 law enforcement officers from throughout the state are in the area or on their way to help with the evacuation.
Local Sikh leaders announced early on Monday morning they have thrown open temple doors across the area, and are offering food and shelter to all people who have been forced from their home.
Officials remained on edge late into Sunday night despite the fact water had stopped spilling into the eroded area.
"There is still a lot of unknowns," Butte County Sheriff Kory Honea said at a news conference.
"We need to continue to lower the lake levels and we need to give the Department of Water Resources time to fully evaluate the situation so we can make the decision to whether or not it is safe to repopulate the area."