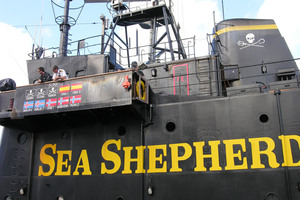 Sea Shepherd's launching a massive campaign against Japanese whalers in the waters around Antarctica.
Four vessels with 150 crew members are on their way there for the summer - the biggest team the anti-whaling organisation has ever sent.
Captain of the Steve Irwin, Paul Watson, said their efforts are working.
"Last year they only took 26 per cent, the year before that only 17 per cent. We've cost them tens of millions of dollars and we're right on the threshold of breaking them financially so we have to keep the pressure on."
Mr Watson said the Japanese have four ships too, so he is confident they can match them.
"We're not down here protesting whaling, we're simply upholding the international laws that protect this sanctuary. They call it a sanctuary - that means you don't kill whales in it."
He said they expect to come into contact with the Japanese later this month.