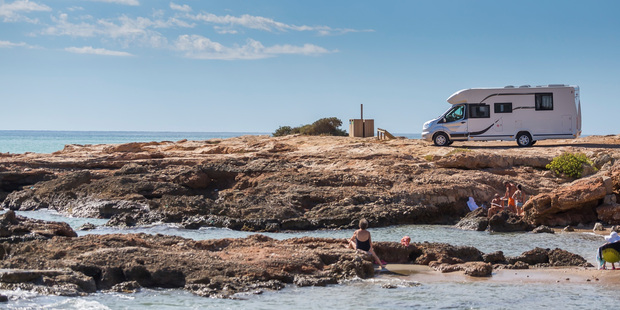 Inspired by the Trail Lite competition in Tuesday Travel, readers share their best tips for campervan holidays in New Zealand and where they'd go if they had the freedom of the open road.

Kids love campervan holidays — it's a really exciting treat for them. Keep an eye out for shoulder season deals for campervans and have a weekend away. Make sure you stay at one of the great campgrounds that have pools and fun things for kids to do in case the weather turns sour, and stock up on loads of DVDs; most campervans these days have great facilities. A home on wheels is seriously the most exciting thing for a kid.
- Sonia McConnachie

One of Northland's best-kept secrets is Motutara Farm, Whananaki. You'll have a choice of sites, overlooking the rolling waves on the beachfront or tucked away in the shade of the many pohutukawa. There's a choice of swimming at either of the ocean beaches looking out to the Poor Knights Islands. Or choose the estuary for gentler, kid-friendly water, and don't forget to do the pipi jive at low tide. Leave your catch in a bucket of seawater overnight to spit their sand, before steaming them open and enjoying with a glass of your favourite. Then you'll know you're living the life! If you're lucky to be there in March, there's an added bonus — several fig trees heavy with fruit. Enjoy them warmed with melted dark chocolate. Then go outside and look up .
. . zillions of stars twinkling back at you.
- Sarah Gilmore

We would return to St Bathans in Central Otago. We freedom camped by the lake several years back and it was one of the most memorable nights that we can remember. It was a very tranquil evening, the lake a fantastic blue-green and the sunset unbelievable. In the morning we were not disappointed: it was so peaceful and the sunrise amazing. We shared the spot with two other campervans, the occupants of both vehicles were equally enjoying the ambience. You can explore around the lake, looking at the interesting landscape created by gold miners sluicing for gold but otherwise just sit, relax and enjoy a place unlike any other we have ever experienced.
- Vaughan and Margaret Baker

One tip I have is to download the Rankers Camping NZ App on to your smartphone or tablet. This fantastic app shows all the campsites — powered and non powered — including free, DoC sites, holiday parks, and conservation sites. It also includes all information such as petrol stations, walks, dump station locations, as well as reviews from fellow campers on each site. This was a tip my daughter gave me.
- Jill Cooper

Freedom camping at Ohope Beach is my favourite spot. From March onwards it's a quiet, peaceful surf beach that goes on forever so no worries of crowding. On the way in watch out on the left for the historical Tauwhare Pa Scenic Reserve. You won't be disappointed at the panoramic views over Ohiwa Harbour, Ohope Spit and White Island on the horizon. Apart from swimming, make the most of it by enjoying fish and chips at sunset at the Harbourside Restaurant, poke around in the Whakatane Hospice Shop and enjoy cafe lunch at the "White House". Not far up the road from there is the Awatere Rail Trip. This trip in golf carts included an interesting bush talk on trapping and conservation, ending in a billy tea and gingernuts. With 10 days it's hard to narrow down your choices. A guided tour of Whale Island is a must do and only a one-hour drive to Hot Pools at Mt Maunganui or Rotorua and the Redwood Treewalk.
- Gaylene Louden

Waving goodbye to the daily grind I would make a beeline to the Curio Bay camping ground in The Catlins. A road trip to a remote part of the South Island is the ultimate way to abscond for a while. Spend time lazing on the magnificent beach at Porpoise Bay or ride the waves with a board or kayak. Gaze out to sea and spot the resident pod of Hector's Dolphins play in the surf. The evening brings a burnt auburn sunset as the Yellow-eyed penguins return from fishing and scuttle clumsily and wearily up to their nesting places. Intriguingly, low tide at Curio Bay unveils a secret — a petrified forest. Visible to the naked eye are remnants of trees that date back to the period when dinosaurs inhabited the planet. The famous saying "if only they could talk" has probably never been more apt.
- Rebecca Burdett

Be adventurous nature lovers, Westport beckons. Check out its museum, the Denniston Mine Experience, indulge with the locals at McManus Hotel and RSA — a friendly welcome awaits. Duck in to the many bays, beaches and communities as you wind your way to Karamea, stopping overnight where the whim takes you. If it is whitebait season even better. Park your van overnight at Karamea Hotel, enjoy a scrumptious meal in the company of friendly locals. See the Oparara Arches. Wander amid stunning scenery, reflect at The Mirror Tarn — your camera will get a good workout. Even the bird life here is friendly. My favourite place. Enjoy Kohaihai Campsite close to the beginning of the Heaphy Track. Walk Nikau Track, visit Scotts Beach, enjoy a wine as you listen and watch waves crashing on the beach, appreciate spectacular sunrises and sunsets, and be prepared for the super-friendly sandflies. This area exudes friendliness and nature.
- Ann Kidd