New Zealand's best produce is world class and a first-rate reason to travel, writes Nadia Lim.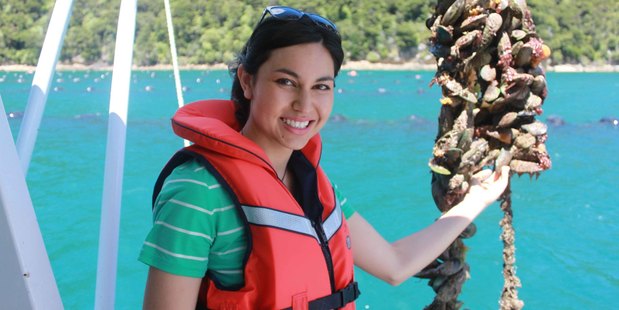 The quality of produce I found was just amazing, plus it made me appreciate just how beautiful our country really is.
Filming a cooking show in a controlled kitchen studio with proper kitchen equipment is one thing, but cooking outside with just one little portable gas cooker, no sink, no oven and wind, rain and glaring sunshine in your eyes is another.
But that was all part of a day's work while filming New Zealand With Nadia Lim, my first solo TV series in which I travel around the country discovering the best regional produce and meeting the amazing people who make it.
It's so hard to choose my favourite part of the country because I loved it all.
I visited Nelson, Auckland, Queenstown, the Bay of Plenty, Canterbury, Rotorua, Otago and Hawkes Bay while filming the series. The quality of produce I found was just amazing, plus it made me appreciate just how beautiful our country really is, from the turquoise waters of the Marlborough Sounds to the dramatic landscape of Central Otago.
From my experiences filming the show, I think all around, Hawkes Bay grows the best fresh produce in New Zealand - the fruit from there is the sweetest you can get; concentrated flavours from all the hours of sunshine it gets.
The Hawkes Bay episode is the final one in the series and with all the great produce on offer, it was easy to come up with delicious fruit-packed recipes including a persimmon, pear and fennel salad and apple and pear tarts with cinnamon cream.
In Canterbury, I visited a High Country farm where I got to try out Silere merino lamb. It is really amazing - some of the best meat I've ever had ... so sweet with a tender, silky texture.
I also really loved the black garlic we had in Marlborough. It's black because it's been slow roasted at 60C for six weeks and the result is a soft, smooth, smoky-sweet flavoured garlic - amazing in a garlic butter or just thinly sliced over steak - it's a very innovative, clever product, which I cooked with in episode one.
Innovation was a common theme with the local food and wine producers I met along the way. Everyone had unique stories to tell and they are coming up with new and exciting ways of creating high-quality products.
In Central Otago, I met Quintin Quider - a Californian-come-Kiwi hunter, fisherman and diver. He now lives just outside Cromwell and owns Wild Earth Vineyard, which produces some really beautiful pinot noir, pinot gris, riesling and rose.
Quintin is a real character and we had lots of fun on the shoot catching trout and smoking our food in a wine barrel - his latest invention - and drinking a bit too much wine.
Not everything went to plan though and we had to contend with some pretty extreme weather conditions when filming outside. Although the stunning New Zealand backdrops make for some great shots, it wasn't always easy to recreate my recipes without things going wrong.
On one shoot I went to pour milk into a blender and it literally went sideways because it was so windy. And, of course, the wind kept blowing out the gas cooker's flame, making it hard to get the frying pan hot.
But that was just a small challenge in what turned out to be an amazing experience and I am so pleased I got the opportunity to film the show.
New Zealand really is paradise, and our produce is some of the best in the world.
• New Zealand with Nadia Lim appears on Food TV, Fridays at 8.30pm.