Cruising up the coast of Vietnam to Hong Kong on a boutique ship is a great way to sample a slice of Asia.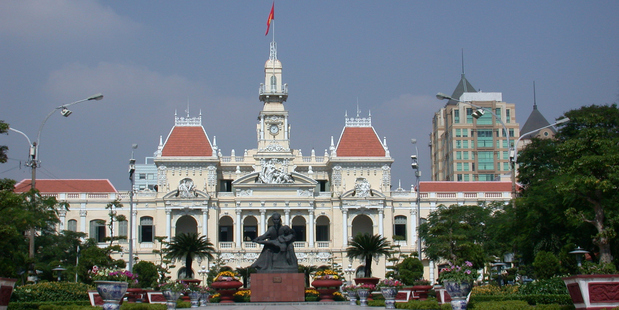 The recently refurbished Azamara Journey is one way to cruise Asia in five-star style.
Here are three day trips worth leaving the ship for:
HO CHI MINH CITY
It's hard to resist sampling the traditional roadside delicacy Banh mi, or pork roll, bought from one of the many street carts in Ho Chi Minh City.
The salad and spiced pork roll has developed something of a cult following and is a must-try while visiting Vietnam's southern city.
To photograph French-influenced architecture, head to Cong Xa Paris Square. The influence is strong here and it's where you'll find the Central Post Office and the Saigon Notre-Dame Basilica.
Also worth checking out is the beautifully ornate Thien Hau Buddhist Temple. The place of worship is fittingly dedicated to the Goddess Protector of Sailors.
HALONG BAY
A peaceful and quiet kayak around the iconic limestone karsts in Halong Bay is a relaxing way to explore the UNESCO World Heritage site.
If you paddle through small caves you'll find secret lagoons with milky, aqua water.
After a seafood lunch at one of the floating communities, take an easy climb to a historic 120-metre-high limestone cave.
Take your camera with you as the cave has an amazing view of the bay and its many junk boats plying the waters.
In the township of Halong Bay, be sure to trawl through the various markets near the beach. There you can haggle over brightly-coloured tea pots, lacquer-ware and ornate wood carvings.
HONG KONG
Walking around the streets of Kowloon will have you marvelling at the fresh food stalls and fashion markets filling each street.
The Temple Street Markets and Ladies Markets in Mongkok are some of the most famous, filled with designer goods and factory outlet bargains.
As if in a feeding frenzy, the streets are swollen with hungry shoppers, and by sundown some stores are too hard to navigate as the torrent of people move against the tide of others.
It's best not to fight against it and just wait and hope you wash past something of interest.
A short tram ride to Victoria Peak brings the size of the city into perspective, with 360-degree views.
- AAP