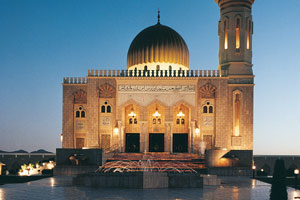 Swoosh. That's the sound of a tick going on my bucket list. One of my must-dos-before-I-die was to stand on the razor edge of a golden sand dune and gaze at the ripples with no human footprints in sight. Done. Fortunately, there are a few more on the list or I could die at any minute.
Oman may seem off the beaten track, but it is only an hour's flight from Dubai or Abu Dhabi to Muscat and it is such an exciting find. With none of the over-the-top glitz of its fast-paced neighbours, Oman is one of the world's most photogenic destinations and is now waiting to be discovered.
New sealed and graded dirt roads have only recently allowed vehicles, rather than camels, access to the dry heart of Oman. In a week I drove (rather, a guide drove) over 2200km from Muscat to Salalah, across sand dunes and wadis, through small towns and along beaches, to ancient forts and archeological sites dating back 2000 years BC.
I ate fresh dates, drank cardamom tea and had henna tattoos from a Bedouin lady in the desert. I shopped at souks for frankincense and kohl, silver jewellery and pashminas, ate Arabian food from fine hotels and hole-in-the-wall restaurants, and took more photographs than even my mother has the patience to view.
Oman is situated in the Indian Ocean. It shares borders with Yemen in the south, Saudi Arabia to the west and the United Arab Emirates in the northwest. It is quite possibly the most unspoilt country I've been to and its progressive government, led by Sultan Qaboos bin Said, ensures that its history and traditions are protected while building roads, infrastructure and fine hotels to cater for the hoped-for tourism boom.
If you're planning a visit to Oman, here are some must-sees:
Muscat
Spend a couple of nights in the capital city. The Grand Mosque is breathtaking for its architecture, Italian marble, 21-tonne handwoven rug and Swarovski crystal chandelier that eight people can walk inside (although not you). Women will need to wear long sleeves, trousers to the ankles and a head scarf. Men should wear long sleeves and trousers.
Muttrah Souk is the city's favourite market. It is on the corniche along the seafront and is famous for quality Arabian wares - from silver to incense, authentic rugs, pashminas, artifacts and spices. Store-holders will urge you to come and buy and haggling is expected.
Desert crossing
I followed in the camel prints of famous English explorer Wilfred Thesiger, the first European to cross the desert in 1948, for two days across the Wahiba Sands. Only I was in a four-wheel-drive. From rolling sand dunes to the vast flatness of the Empty Quarter, this is harsh but picturesque country.
Stay at the luxurious Desert Nights Camp. If you're planning an exotic honeymoon, this is the spot. There are 24 permanent five-star tents, each with bathrooms and handmade furnishings, a restaurant with live music under the stars and a visit from local Bedouin to paint henna on the ladies.
A sunset drink at the top of the surrounding sand dunes is magical. Try to arrive an hour beforehand as the colours are incredible across the golden rippling sand. They also offer camel rides and quad bikes for some noisy dune-bashing.
Nizwa
There are 500 forts in Oman and the 400-year old Nizwa fort is the biggest in the Arabian peninsula. It has been restored to its original and murderous splendour. Climb the narrow staircase and look up at the murder holes where boiling oil or burning date juice could be poured over marauding enemies trying to enter.
Nizwa Souk is not to be missed, particularly on a Friday. Thursday and Friday is the weekend in Oman and Friday is also the holy day, so you will hear calls to prayer from the many mosques and see people shutting shops and dashing off to pray.
On Friday the livestock market is the place to be until 11am to watch fervent bidding on camels, cattle and goats. You'll also find stalls selling furniture, frankincense, sandalwood, pottery, incense burners and more.
Wadi Bani Awf
A wadi is a dry gorge which can fill very rapidly during the rains - and you don't want to be in one when that happens. Several have dirt roads through them which are kept well-graded and mostly free of potholes.
Wadi Bani Awf is one of the most popular four-wheel drive routes. But hold on to your lunch, this is two hours of serious off-roading and although it is open to tourists in their own hired vehicles, I'd not recommend it. Besides, taking a local guide means you get much more out of the trip.
Visit the Al Hoota caves to view the stalactites and 'mites, then stay at Nahakl camp in motel accommodation, permanent tents with mattresses, or bring your own. The dining hall offers a dinner of curries, dips, salads and breads followed by juice, instant coffee or tea.
Salalah
In the 50C-plus summer heat, Oman's southern city of Salalah is a welcome respite. Ironically this is where everyone flocks for the monsoon season, as it's cool, wet and they love the fog that hangs over the mountains between June and September.
From here you can make a day trip to the lost city of Ubar, which was thought to only exist in legend from 3000BC.
But in 1992, using remote satellite sensing, Ubar was found - a desert settlement with an octagonal fortress and eight towers, plus pots and artifacts dating back thousands of years. Today it is still being excavated and you can only make out a vague semblance of a city, but for archaeological boffins, this is a gem.
Tips
Oman's dress code is not as strict as those of its nearby Arabian neighbours, but modest or loose-fitting outfits are advised.
Alcohol is only sold in hotels. It is fine to take your own duty-free alcohol, but be discreet (gin in water bottles is a natty idea for a tipple in the desert).
An entry visa is not required for New Zealanders. Visas can be bought for about $25 upon arrival at Muscat Airport for other nationalities (including Australians).
Petrol is about 40c a litre. internet and cellphone coverage is very good. Some hotels offer free WiFi, others can charge up to $30 per 24 hours.
The best time to go to Oman is between November and March, when the evenings are cool.
*To book an Oman holiday, go to Harvey World Travel's website or phone 0800 84 84 80.
*To read Megan's travel blogs, visit bloggeratlarge.com.
Megan Singleton was assisted by Sultanate of Oman Tourism, omantourism.gov.com and Etihad Airways.