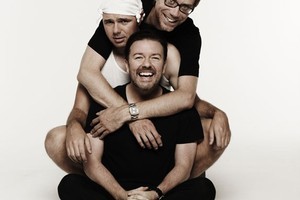 In the words of Ricky Gervais, Karl Pilkington is a "moron", a "buffoon" and, most of all, an "idiot". And the premise for this travel show-cum-social experiment sees renowned moaner and hater of change Pilkington being sent by Gervais and writing buddy Stephen Merchant to visit the seven wonders of the world to soak up the culture of the various countries.
While Pilkington is not that well-known here, he's a cult celebrity in Britain, thanks to his work alongside Gervais and Merchant on The Ricky Gervais Show on radio station XFM.
An Idiot Abroad is not likely to make him a star here but he's sure to become well-known as a whinging Pom.
It's Gervais who sums up the show best: "Nothing is funnier than Karl in a corner being poked by a stick - I am that stick."
All three created the show with the first episode dropping Pilkington in China where he gets force-fed toads, looks on as locals have "cockroach as a starter", and visits the Great Wall.
Although he's not that enamoured with it: "They aren't even old bricks ... all the old stuff has gone. It shouldn't be a wonder then, should it?"
Later in the series he travels to India to visit the Taj Mahal, Egypt's pyramids, and Brazil's Christ the Redeemer.
LOWDOWN
What: An Idiot Abroad
Where and when: Thursday February 10, TV3, 9.30pm
Who's it for: Travel show-loving Office and Extras fans
- TimeOut