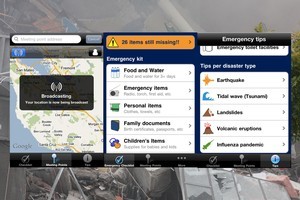 For iDevices, iOS 4.3 is imminent. The update will bring a much faster web browsing experience thanks to Safari's new Nitro JavaScript engine.
Users will be able to access all their iTunes media content via Wi-Fi using the revamped iTunes Home Sharing feature.
AirPlay has been improved so that all iPad apps can push video or photos out to any AirPlay ready device - ie, the Apple TV. The feature will even allow websites to push audio and video via AirPlay.
Users will be able to select whether to set the iPad's switch to lock screen orientation or to act as a mute button.
iPhone 4 users will be able to set their phones up as personal Wi-Fi hotspots and share a single cellular data connection with multiple Wi-Fi devices.
Photo Booth - a popular free app in the Mac OS - is in the new iOS. This lets users select photo effects to capture and stylise photos.
FaceTime video calling will take advantage of the new iPad 2's dual cameras. iPad and iPhone users will now be able to connect via FaceTime.
Meanwhile, the imminent arrival of iPad 2 has made competitors redesign their offerings.
These include a possible HP change in strategy for the future TouchPad, according to 'insiders'.
A number of notebook designers, including Acer, ASUS, and HP, have reportedly looked at adding tablet features into what were going to be conventional designs. Digitimes cited the example of a 10-inch Eee Pad's USB keyboard as an example of what sort of changes might take place.
Piper Jaffray analyst Gene Munster (who tends to over-inflate, in my opinion) has pointed out that Apple has ten times the number of distribution points compared to a year ago, when the original iPad went on sale. So there are more lines forming for the release, but they are smaller because there are more points of sale.
Emergency app developed in Christchurch
An app has been created by a Christchurch developer to help you keep up to date with your emergency kit - created by Sergio Alvarez Diaz for $1.29, it's in the App Store.
IGetThru has an emergency checklist with calendar reminders, real-time location of friends and relatives on a map, can broadcast your location and allows the definition of up to two meeting points. It also contains emergency tips.
The application was built after the Christchurch earthquake of September 2010.
Free backups for Christchurch
An Auckland company created by two brothers offers Christchurch residents 90 days free off-site, data backup service in Auckland and Wellington servers.
iBUS is offering backup with no obligation, to help keep your data out of Christchurch for three months, although some may want to keep the backup service after the free trial period.
Campbell Green of iBUS says "We figure businesses may want to get their data out of Christchurch, and we can do that for them. We have had a positive response already with our partner in Christchurch signing people up left, right and centre."
What degree should you go for?
New Zealand company Graduate Factory, which is based in Otago, has come up with a solution to one of the most important decisions in a person's life: What should you major in at university?
No Major Drama is an internet-based tool that enables users to create personalised rankings of majors available for Bachelor (under-graduate) degrees in the US and Canada. Each user's ranking of majors is based on their own personal selection criteria, related to their skills and interests, and their own personal weights on the criteria.
With so much (time, expense ...) riding on the decision, this new software may be a blessing. William Henry Harrison High in Cincinnati was the first US school to trial No Major Drama. Steve Barnes, WHH's guidance counsellor, reckons it's "Finally a tool that is quick, easy and useful for students and provides counsellors with valuable data."
With over 5000 colleges and 18 million students in the US in any one year, NMD's creators are hoping to help lots of people to maximise their academic (and career) prospects, and in the process 'save the world'. "Education's social and economic importance cannot be underestimated," says Dr Paul Hansen, one of NMD's inventors. "And given the scarcity of educational resources, the decision of what to major in has great national significance."
Dunedin-based student Jamie Parkinson-Wisely from John McGlashan College describes NMD as "really awesome, incredibly easy to use and fun as well. The results I got were mostly things I wanted to do with a couple of new ideas worth considering," (according to a company press release).
No Major Drama has been created by the Graduate Factory Ltd, an EdTech company associated with The Distiller Lab at the Centre for Innovation, University of Otago, Dunedin.
NMD was inspired by the success of Otago Choice, which is software to help students choose from the 106 majors available at the University of Otago. Since going live in 2008, Otago Choice has been used over 50,000 times (60 uses per day, on average). Based on this experience, Graduate Factory created No Major Drama for the US and Canada.
No Major Drama is completely free for individual users and schools.
- Mark Webster mac-nz.com