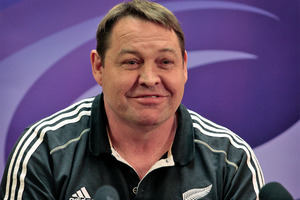 It's possible that All Black coach Steve Hansen might be a bit more switched on than he's given credit for. He's probably never going to be a hugely popular or uniting figure - a dark period in 2009 where his toys came out the pram will not be forgotten by everyone.
In his eight years as assistant coach, he never really nailed the public image thing - his dry and laconic wit was often misinterpreted as grumpiness or worse, hostility.
It's a constant battle for public figures - perception often blights reality and let's face it, we are all suckers for someone with charm and humility.
History is full of poor coaches who survived on the strength of their persona: a smile and a willingness to engage are often enough for the cracks to be papered over, or totally ignored.
Hansen on the other hand is shaping as a good coach who won't get that even break just because he doesn't radiate that natural warmth. In the coming weeks the criticism of his likely first squad selection will become intense.
He'll be accused of picking more on reputation than form as if this is the act of a crazy man. But really, it couldn't be any other way.
The dangers of being without experience were painfully shown in June 2009 when the All Blacks were beaten by France in their opening game. There was no Dan Carter, no Richie McCaw, no Conrad Smith or Ali Williams.
With limited preparation time and ingrained with Super Rugby's bad habits, the All Blacks were easy pickings for an experienced French side.
If Hansen were to take a maverick mind-set into June, it's almost certain the Irish would secure their first test victory against the All Blacks. Ben Smith, Andre Taylor, Aaron Smith, Beauden Barrett, Brodie Retallick, Matt Todd and Charlie Faumuina all look worthy of black jerseys and nearly all of them will be included in the 30-man squad.
But the opening game of the season is not the time to be taking huge selection risks. The All Blacks have 14 tests this season - ample opportunity to inject some new faces and begin the process of evolving an aging side.
Hansen is not dumb - he knows that a few of the team who won the World Cup can't go on for much longer. But he also knows the season has to start well.
His plan is sound and suggests he's got a clear strategy on how to win tests and how to continue advancing his team.
Over the course of the season players such as the Smiths, Retallick, Faumuina and Retallick will be given opportunity - maybe the occasional start or cameo appearances off the bench. By November some of these new players will have proven they can handle test match football - some will have struggled.
Those who take to it will be expected to put pressure on the incumbents and see if they can force their way into becoming starting players for the final two tests of the year against Wales and England.