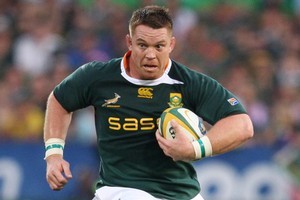 Springbok captain John Smit's elbow injury has proved to be no more than a minor one but coach Peter de Villiers has indicated Saturday's test against the All Blacks was always going to be the game where Smit would be given a break and Bismarck du Plessis a chance to get going.
Smit started the first three Tri-Nations games and made progressive improvements on his form (until being moved to tighthead at the weekend). Du Plessis came on in the 50th minute of the defeat to the Wallabies in his first action in six weeks, and looked good.
"We are blessed to have hookers of the quality of John and Bismarck, and while John was the right call for the Wallabies, maybe we will make a different call for the particular circumstances of this week's game," de Villiers said.
Smit said he overextended his elbow in a set scrum but "it is nothing a strip of Elastoplast won't fix".
Nevertheless, Chiliboy Ralepelle has been called up as cover. The Blue Bull was one of the better players on the recent Tri-Nations tour, albeit off the bench.
Fullback Francois Steyn's torn hamstring has resulted in Sharks pair Patrick Lambie and Lwazi Mvovo being called up as back three cover, although it is possible Lambie will slot straight in at fullback with Gio Aplon remaining on the bench as cover.
Smit, meanwhile, has called on his players to digest the disappointment and "feel the bumps and bruises" before raising their heads and turning their attention to the All Blacks.
"Over the eight years we have been together as a team we have had to bounce back a few times from adversity and we are going to have to do it again," he said. "We always bounce back.
"We don't want to be a team that says 'Judge us on the World Cup', we want to be playing good rugby before we get there," Smit said.
"Look, we and our fans have a lot to be disappointed about because we should have won a game we pretty much controlled. Now we have to step it up big time and our fans must know we are going to be working night and day to beat the All Blacks."
De Villiers, meanwhile, said that had his team converted even one of the three clear try-scoring chances created in the first half, it would have been a different game.
"Over-eagerness was the problem with those chances. If we had got a good lead we could have played differently when we tired. It is hard to play catch-up when you are tiring and it did not help that just as they went ahead, it started raining heavily.
"Otherwise I was happy with what we did. A lot of the guys were six weeks without rugby ... some six months. We expected rustiness and tiredness but it is a big plus that we go to Port Elizabeth a lot more battle-hardened because of the Durban experience."
De Villiers was also hoping for the rugby gods to smile on his Boks.
"We have not been getting the rub of the green for three years now. For instance, take their try. In one movement, Heinrich Brussow lost his footing [and fell over his own feet] and Steyn pulled his hammy," he said.
De Villiers said Brussow and Jannie du Plessis were substituted not for tactical reasons but because they were exhausted.
- INDEPENDENT