Hamburgers, hula hoops and bungy jumps all played a part in creating the Lydia Ko sensation, finds Andrew Alderson.
Anyone observing Lydia Ko along the fence line of the 16th at St Andrews during the first round of the 2013 women's British Open knew a future golfing champion was in their midst.
The then 16-year-old amateur jammed the ball against the embankment 40 yards out with a sliced second shot. She faced an undulating chip on to the green of the 423-yard, par-four Corner of the Dyke.
The crowd, albeit about 20 of us, formed an umbrella around the ball as Ko approached. "Oh, great," she murmured to no one in particular with a grin and shrug of the shoulders.
Her reaction drew a chorus of well-wishes, most including a half-hearted "Good luck ". The consensus was no one could recover from such an ominous position.
Ko snuggled into the wall brandishing what looked like a seven-iron. Her connection was a hybrid of table tennis slice and lumberjack power.
The ball squeaked out of strife and, as if showing its appreciation, nestled within eight-feet of the pin. Ko sank the putt and skipped off the green.
Since that moment - and that tournament where she finished as the joint-best amateur in 42nd spot - nothing about Ko's ascension has surprised.
The world No1 has accumulated a host of accolades, most prefaced by "youngest-ever". Her pedigree suggests her second major, secured this week at California's Mission Hills Country Club, will become a regular occurrence.
Her poise in the spotlight even extended to the traditional winning leap into Poppie's Pond. Everyone else bobbed up dishevelled. Ko emerged with her sponsored hat perfectly square. She even had the presence of mind to clamp her nose as insurance and had no qualms about donning the requisite fluffy bathrobe for the photo shoot.
New Zealanders can expect her career path to move into uncharted territory. Nothing in sport is certain, but Ko, who turns 19 this month, has the work ethic to insure against inevitable defeats and disappointments.
Ko could not only become New Zealand's finest golfer but also this country's finest sportsperson.
Former coach Guy Wilson, who coached her for 11 years from age 6 used to refer to her "days off", which only involved two to three hours' practice.
Ko's relationship with Wilson was pivotal to her success. The pair would challenge each other to hula hoop contests at training, offer to shout the winner hamburgers during their pitch-and-putt competitions and Wilson, who feared heights, eventually accepted the dare of a bungy jump in response to Ko's breakthrough 2012 Canadian Open win. She is playing for more than hamburgers now, though.
The pressures of the LPGA are immense, but missing one cut in 72 LPGA events since 2012 indicates she is coping. Melded with those results is the increased exposure of her brand. She appears on billboards in international airports, duels with NBA basketball MVP Steph Curry in promotional shoots and is compared, presumably with the best of intentions, to the youthful Tiger Woods.
Temperament is central to Ko's mystique. She would make a formidable poker player. If she is as inscrutable at the card table as she is on the golf course she could bluff James Bond.
Let's head back to St Andrews in August 2013. Ko's routine was metronomic where others, like American playing partner and now world No 3 Lexi Thompson, regularly thumped clubs into the turf in disappointment.
Has Ko ever lost the plot and thrown a tantrum, a club or even a banana peel in anger? If she has, Hercule Poirot might be required to uncover the evidence.
Everyone else bobbed up dishevelled. Ko emerged with her sponsored hat perfectly square.

SHARE THIS QUOTE:
A double bogey on the seventh hole during that first round of the British Open was a case in point. For a moment it looked like steam was coming from her ears until you realised it was just a sepia conveyor belt of clouds blown in off the North Sea.
After the round Ko admitted she "got angrier after that" and was "boiling away" but you'd need to be the Mentalist to detect a change in countenance. She responded with four birdies in six holes.
Fighter jets ripped apart the sky as if it was a Top Gun set at one stage, but Ko played on unfazed.
An umbrella hit the ground next to the third green as she struck a seven-foot putt; the ball dropped in the cup.
When Ko put her approach shot within four feet of the 17th pin, a pair of Scottish chaps in tweed deerstalkers stood with mouths agape. "I cannae believe it," said one. "Aye, Roy, this lass can play," his mate replied.
Her rhythmical swing and instinctive feel never see her try to drive the cover off the ball or hold her irons to ransom by asking them to perform miracles. She clasps her putter confidently but carefully, like a museum curator relocating a Ming vase.
Her presentation is immaculate, too. Look out for the pink windbreaker and duck egg blue jumper for style, and the pinched trouser cuffs to keep out the morning dew for practicality.
Ko-ologists should also note the glitter-lacquered fingernails and parent-approved tattoo of "April 27, 2014" - the date of her first LPGA victory - inked in Roman numerals under her right wrist. An artistic streak bubbles within.
Team Ko leaves little to chance in pursuit of golfing perfection. Countless hours of practice consistently pay dividends.
Her mum, Tina, has chaperoned her daughter for years and, at St Andrews, assessed her daughter's options with LPGA execs.
Ko made Time's list of 100 influential people but she admitted her mum keeps their operation on-point with her cooking, packing and general chit-chat.
Importantly, Mum gives her daughter breathing space on the course, generally walking ahead of play and out of eyeshot, although snacks have been surreptitiously passed on late in the round to boost energy levels.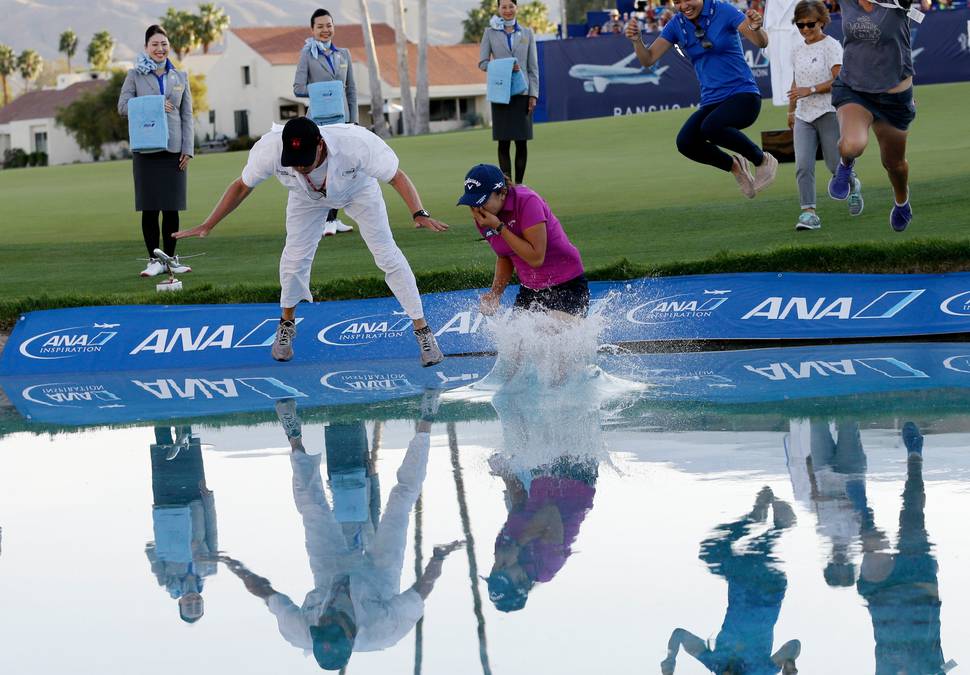 The focus is now on what Ko might achieve in a game from which she intends to retire at 30. Career earnings of $8.7 million in less than three full seasons and a swag of lucrative endorsements suggest she should have no problem achieving her objective.
She is into her second year studying psychology extramurally at Seoul's Korea University with a view to applying her knowledge in analysing the underworld. She has a penchant for crime-based television shows.
It appears swinging clubs will not consume her life forever.
Ko might not realise it, but she can also play a pivotal role in New Zealand society. After emigrating from South Korea in 2003 and gaining New Zealand citizenship in 2009, she is a poster child for multiculturalism in our sport.
Her precocious skill and natural warmth has disarmed the Kiwi public.
Sure, New Zealanders love a winner, but her temperament, discipline and humility have been exemplary.
Her ability to articulate her teenage thoughts - when English is not her first language - puts monosyllabic sporting oafs to shame.
Wayne Shelford re-ignited awareness of Maoritanga with his renditions of the haka in the late 1980s; Val Adams is a pillar of the Tongan community through shot put; and Ross Taylor has highlighted Samoan cricket talent. Ko can do the same for New Zealand's Asian community and further strengthen the country's social fabric.
Ko just has to avoid the path that leads teenage prodigies to meltdown - cue Tiger Woods, Jennifer Capriati and Zac Guildford. She needs to channel more Sachin Tendulkar, Rafael Nadal and Sarah Ulmer.
Her skills have brought unprecedented sponsor and media attention, encapsulated by an invitation to Augusta in Masters Week to collect an award from the Golf Writers Association of America as their female player of the year.
They recognise Ko's capacity to eclipse American Patty Berg as the most prolific women's major winner with 15 between 1937 and 1958.
She might break down other barriers, too. There have also been no grand slam winners, an even harder task since five tournaments achieved major status in 2013.
She clasps her putter confidently but carefully, like a museum curator relocating a Ming vase.

SHARE THIS QUOTE:
In fact, only six women have secured a career grand slam. The last was Swede Annika Sorenstam in 2003 with the sixth of her 10 major victories.
Elsewhere, the World Golf Hall Of Fame recognised Ko's potential when they asked for a piece of memorabilia after her maiden LPGA win at the Canadian Open win in 2012.
The prized left-handed glove they received must be gaining value by the day.
The Institute of Golf in Albany, where Ko trained under Wilson, has also benefited from her goodwill.
An example is the framed photo hanging in the institute's entrance hallway.
Ko holds her maiden LPGA trophy from the Canadian Open which is almost as large as her torso.
A couple of Canadian Mounties assist on either side. Inscribed in black felt pen is a message: "Thank you IoG. Amazing 2012! What a team. LK".
She is even a potential vote-winner, given the Prime Minister rang after her maiden win at the New Zealand Women's Open in 2013.
Ko perhaps resonated best when she shed tears after that victory.
"It means a lot and makes it more special to be the first New Zealander to win the Women's Open.
"It is always special to make history. I guess I broke history again."
That is becoming a familiar refrain.
Always a winner
Eight years ago I challenged an 11-year-old to nine holes of golf and lost. I'd set the afternoon game up after rumours some North Shore prodigy was destined for the big-time. Turns out they were right.
You can pick any number of remarkable things about Lydia Ko's story. But beyond the fame, the money and the trophies, the most incredible thing is how she is still the same as the 11-year-old who talked to me about Kung-Fu Panda as we walked (she skipped) down the fairways in 2008.
Humility is a rare trait in modern sport. But that is key to Ko's success and what makes her so likeable. When she was on the cusp of turning professional, we would bump into each other at our golf club. Most athletes would, inwardly at least, not want a bar of hanging out with a journalist in their spare time.
But not Ko, she would come over for a chat about golf. She is that much of an open and fun personality.
She is also incredibly generous. At the same club, another young girl is coming through the ranks who, predictably, has been dubbed the "next Lydia".
Thirteen-year-old Bohyun Park was on the putting green one day, wielding a very expensive putter - a Tour-only Scotty Cameron, ultra bespoke pieces of gear that can go from $5000- $20,000, more if it has been owned by a famous player. Sure enough, it was Lydia's. Along with a driver she gifted to inspire someone else to pursue their dreams.
- Additional reporting: Simon Plumb