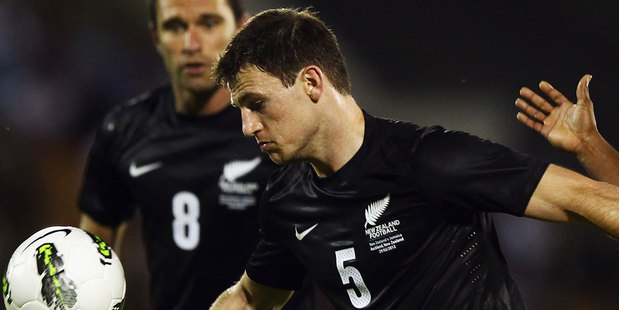 All Whites defender Tommy Smith has been named captain of an experienced All Whites side for tomorrow's intercontinental World Cup playoff against Mexico.
After the team's final training session at the 104,000 capacity Estadio Azteca today, Ricki Herbert revealed his side for the first leg of the tie in his preferred 3-4-3 shape.
Glen Moss is named to start in goal while Smith will operate as part of a three-man defensive unit which also includes Ivan Vicelich and Andrew Durante.
Jeremy Christie will start in midfield alongside Michael McGlinchey, Leo Bertos and Tony Lochhead while the team's attacking thrust will be provided by a front three of Jeremy Brockie, Chris Wood and Kosta Barbarouses.
After shifting from their initial training camp base in Los Angeles, Herbert says the group have acclimatized well in the football-mad surroundings of their opposition - ranked 24th in the world to New Zealand's 79th.
"The feeling around the game here in Mexico is incredibly passionate and there has been an unbelievable volume of interest and the All Whites are part of that which is good for us," Herbert said.
"Everything the squad have had so far has been really good; it's been well organised and security has been great and we've been looked after very well."
Aiming to a secure a berth in New Zealand's second successive World Cup tournament, Herbert stressed the need for a structured approach which served the team well as they navigated the 2010 World Cup unbeaten against Slovakia, Italy and Paraguay.
"We will need to be disciplined up against a higher ranked side and our ability to maintain our shape and perform the roles which have been given will be important for us," Herbert said.
"Our approach is something the players know and are comfortable with and we have a history of producing in," Herbert said.
Part of that history includes Christie, a player who saw time in two of the All Whites' World Cup clashes in South Africa, with Herbert looking again to tap into the 26-cap midfielder's ability to perform a set role.
"Jeremy is well ahead of things physically and is a player who has worked his socks off and is desperate to be part of the All Whites let alone the starting 11.
"His marking ability is something which will be key for us and he's well suited to the role he has been given."
With Winston Reid ruled out of the tie last week due to injury, Smith assumes the captaincy of the side, something the Ipswich Town defender has done before.
"The experience Tommy has from international level, the club he plays for and the level he plays at serves him well and he will bring those qualities to the side," Herbert said.
"But it won't all fall on one person's shoulders; we expect to have 11 leaders out there together."
Having secured the country's berth in the playoff back in March, the All Whites are now less than 24 hours away from tackling one of the toughest tasks in football, an opportunity Herbert and his group are ready for.
"There is a calm and responsible feeling around the squad at the moment and we know the challenge which awaits us.
"We're all desperate for 2.30 tomorrow [local time] so we can put ourselves to the test."
New Zealand (3-4-3): 1-Glen MOSS (GK), 3-Tony LOCHHEAD, 5-Tommy SMITH (capt), 7-Leo BERTOS, 8-Michael MCGLINCHEY, 15-Ivan VICELICH, 16- Jeremy BROCKIE, 17-Kosta BARBAROUSES, 20-Chris WOOD, 21-Jeremy CHRISTIE, 22-Andrew DURANTE.
Substitutes (from): 2-Jake BUTLER, 4-Ben SIGMUND, 6-Bill TUILOMA, 9-Shane SMELTZ, 10-Rory FALLON, 11-Marco ROJAS, 12-Tamati WILLIAMS, 13-Chris JAMES, 14-Storm ROUX, 18-Craig HENDERSON, 19-Aaron CLAPHAM, 23-Jacob SPOONLEY (GK)
Coach: Ricki Herbert