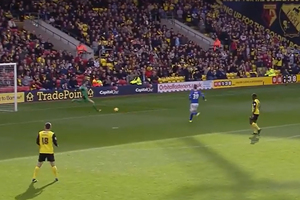 All Whites striker Chris Wood has scored the luckiest goal of his career for club side Leicester against Watford in the Championship overnight.
Watford goal keeper Manuel Almunia attempted to thump a clearance downfield but instead kicked it straight into Wood's head and the rebound went straight into the net to open the scoring for Leicester in the 10th minute.
It was the former Waikato FC striker's 5th goal of the season but just his first in the Championship as Leicester won 3-0 to secure their best ever start to a Football League season.
Wood has recently returned from a hamstring injury, but is back to full fitness ahead of the All Whites World Cup qualifier against Mexico in two week's time.
A lucky goal like that would not go amiss at the Azteca on November 15th.