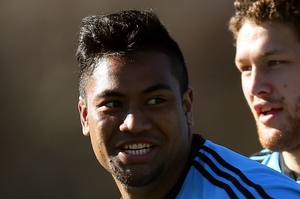 Julian Savea's Super rugby future remains unclear.
The All Black wing has been a member of the Hurricanes since 2011, racking up 40 caps and 16 tries in the process, but despite being a Wellington born-and-bred player, he is yet to commit to the franchise for next year.
When quizzed about the 2014 season, the 23-year-old couldn't offer a concrete response yesterday.
"Ahh, not sure at the moment. Obviously [I'm] keeping my options open but just focusing on footy right now and I'll deal with that in [due] process when it comes," Savea said.
As for when an announcement could be expected, Savea also produced another sidestep.
"For me, mainly, there's no timeline at the moment."
The 12-test All Black acknowledged there had been advances from the Crusaders, who are light on outside backs for next year, while the Hurricanes have made no secret of their desire to hang on to him.
Two weeks ago, after the franchise announced they had re-signed first-five Beauden Barrett, Hurricanes chief executive James Te Puni said Savea was their next major target.
"In my opinion, Julian's one of the best wingers in international rugby so there's always going to be a queue at the checkout when it comes to him re-signing so we respect that," Te Puni said on August 8. "But both for the Hurricanes and for New Zealand rugby, there's no deal done. So we'll just do our best there and hope that Julian ends up in a Canes jersey."
The future of Ma'a Nonu, who plays for Wellington club Oriental-Rongotai with Savea on occasion, is undecided for next year but Savea said Nonu's fate had nothing to do with his thought process.
"No, not at all ... Hopefully he gets picked up and it'd be really sad if he doesn't get to play in Super rugby."
Savea is likely to play on the left wing for the All Blacks in Saturday night's Bledisloe Cup encounter with Australia in Wellington.