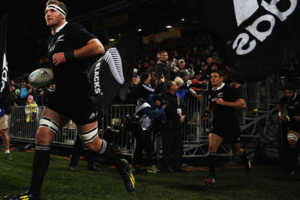 Wellington punters will have to stump up just $10 to watch the All Blacks when the world champions play two training matches in Lower Hutt next month.
The All Blacks squad will face the Wellington Lions and a Canterbury XV as part of the respective teams' build-ups for the Rugby Championship and the ITM Cup.
Three 40-minute matches will be played at Lower Hutt's Hutt Recreation Ground on August 9, following the format of last year's successful All Blacks training matches against Counties Manukau and Auckland in Pukekohe.
Wellington will play the Canterbury at 4pm, before the All Blacks squad take on the Cantabrians at 4.50pm and Wellington complete the triple-header against the All Blacks at 5.45pm.
"Last year's hit out against Counties Manukau and Auckland was great for our preparations for the first Test of the Championship, so it's great we are able to do the same this year with Wellington and Canterbury," All Blacks coach Steve Hansen said.
The All Blacks will be in Wellington to prepare for the opening Bledisloe Cup and Rugby Championship test against Australia in Sydney on August 17. After flying to Sydney for the clash with the Wallabies, they will return to the capital to prepare for the return Bledisloe Cup test at Westpac Stadium the following weekend.
But before they face their transtasman rivals, encounters with less illustrious opposition awaits.
"We are very excited about hosting this unique match," said Wellington head coach Chris Boyd. "It will be six days before we begin the ITM Cup so provides a real test of our systems and combinations against the best in the world.
"It is a fantastic opportunity for our homegrown players, many straight from our club rugby competition, to see what it takes to reach the next level."
The opening round of the ITM Cup will kick off the following week, with Wellington taking on Counties Manukau and Canterbury playing Taranaki. Canterbury coach Scott Robertson said their team were also looking forward to the training matches.
"It is a unique opportunity for the Canterbury boys to play the All Blacks and we're extremely excited about it. For our players to play the ultimate team is fantastic for our preparation for the upcoming ITM Cup season."
Tickets will go on sale July 24 and, due to capacity, only 6000 are available. General admission tickets will be $10 while children aged 14 and under are free.
- APNZ