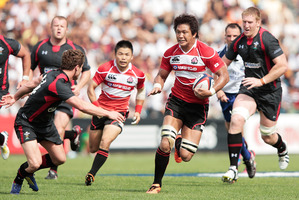 There was no let-up when the bulk of the 1987 World Cup-winning All Blacks toured Japan at the end of that season. Under the acrimonious link between John Hart and his assistant Alex Wyllie, the All Blacks thrashed Japan twice although the games were not given test match status.
They destroyed Japan 74-0 and then with a solitary change as Grant Fox replaced Frano Botica at five-eighths, they delivered an even greater 106-4 walloping in the second match.
In November, the All Blacks will visit Japan for the first time since that trip to play a test in Tokyo.
It's part of the amended plans for the All Blacks, who felt four tests in Europe last year at the end of an already draining programme were a test too far. That happened to coincide with illness and their limp 38-21 loss to England at Twickenham.
Instead of trying to interchange players or find cameo parts against the Home Unions as they do for some of the 32 in the squad, the All Blacks want to play most of their secondary picks against Japan.
Last month Japan beat a Wales side without any of their Lions, 23-8, and coach Eddie Jones is welcoming the chance to pit his men against the All Blacks. The test should pull the crowds in Tokyo and be a strong marketing thread for Japan as they build towards the World Cup there in 2019.
It is an opportunity for the All Blacks to travel somewhere different and connect with their sponsors, though many will argue with some objective judgment they should be playing in the Pacific Islands instead.
The All Blacks could have chosen to grow their game, leadership and depth, as their press release espouses, by playing Scotland or Wales with the rest of their squad. Either game would have given the dirt-trackers more experience of rivals and conditions they could meet in the 2015 World Cup in Britain.
Instead the NZRU wants to head for Japan. The All Blacks' range of sponsors will benefit while the rest of the squad play the Brave Blossoms.
It will break the long journey for the players, give others on the staff more input into the managing and directing and challenge them all in a different environment.
It's another version of rotation with a "soft" opponent as the target. If they wanted to challenge the depth of younger players in the All Blacks, they would send them out against one of the Home Unions.