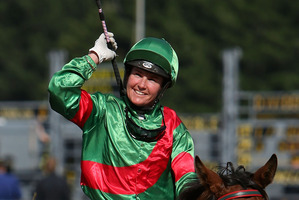 The weight lifted from Central Districts jockey Lisa Allpress' shoulders yesterday as she finally chalked up her 1000th domestic winner to become the first woman jockey to achieve the magic mark in New Zealand.
Weight has never been a problem for the Wanganui jockey, but the wait to crack her 1000th raceday winner had been agonising until she guided the Foxton-trained Kekova to victory in the Wairarapa Thoroughbred Breeders' Stakes, the main event on the Wairarapa Racing Club's card at Tauherenikau yesterday.
The diminutive rider had been sitting on 999 wins in New Zealand since last winning on Really Rusty at Riccarton more than a week ago.
While she went into yesterday's meeting with four "good rides" she failed to greet the judge or even run a place in her first three.
With the scratching of the aptly-named Exceeding A Dream in the last race, Allpress was left with Kekova as her final ride for the day.
She has an impeccable record on the David Haworth/Matt Dixon-trained mare, having ridden her only once before for a win.
"Thank God for that," was going through Allpress' mind as she approached the winning post on Kekova yesterday.
"I hit the front a bit earlier than I intended to, but she was travelling so well and on the bit I knew she had the favourite covered.
"The wait hasn't been annoying me so much, but it seemed never ending. I'm just so glad it's over and I can carry on. It felt pretty awesome, though," Allpress said.
- APNZ