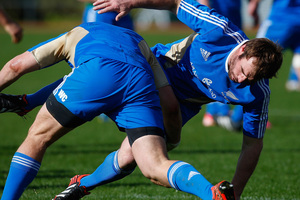 All Blacks forwards Andrew Hore and Kieran Read know the men wearing the small numbers on their backs will get the biggest workout against Argentina on Saturday.
All international teams are physical, it's part of the game at the highest level, but the Pumas have long been known for their strong scrummaging and intimidating forward play.
The All Blacks assembled in Wellington this weekend to begin their build-up for Saturday night's test at Westpac Stadium and Hore said the confrontations across the park would be hard-hitting.
"They're pretty tough up front traditionally," the Taranaki hooker said. "I've been lucky enough to play them three times and they definitely give you a hard go at scrum time and they play to their strengths as much as I know.
"It's just the way they've been brought up to play rugby. That's how they do it, much like the French people, they take pride in being good and strong and getting dominance up front like most teams try and do.
That's one of their strengths and they're big men."
Hore, who has accumulated 67 test caps since he made his debut against England in 2002, played in last year's World Cup quarter-final victory over Argentina when the All Blacks won 33-10.
The 33-year-old also squeezed in a 40-minute shift for Taranaki last night as they held on to the Ranfurly Shield with an entertaining 49-40 victory over Tasman in New Plymouth.
Having lined up against the Pumas three times before Hore was asked if he'd developed any rivalries with the Argentine front-rowers and he responded with some of his customary sly wit.
"I haven't had much luck with relationships lately so I've been chipping away there," he laughed.
"Obviously it's good fun to have a bit of banter but the language barrier doesn't help me much either in these sort of games."
Read, who will likely pull on the No 8 jersey for the All Blacks this weekend, said the loose forward battle against Argentina would be a feature of the contest.
"It's immensely challenging especially for a forward and it's a great measure against yourself," Read said.
"Technically they're really good around the breakdown and that set piece time and there's a lot of experience in their team as well."
Argentina opened the Rugby Championship with a 27-6 loss to South Africa in Cape Town last month but bounced back to draw with the Springboks 16-16 in Mendoza last weekend.
- APNZ