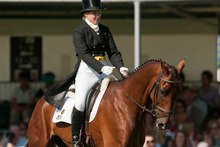 Jonelle Richards has quickly adjusted to a new, jet set lifestyle now her name is tagged with the word "Olympian''.
The 31-year-old was named in the New Zealand Olympic equestrian eventing team on July 3 with Mark Todd, Andrew Nicholson, Caroline Powell and Jonathan Paget. Within days she was making her debut in a private jet, flying from England to Germany to watch the World Equestrian Festival in Aachen.
"We felt like high-rollers getting picked up and skirting the departures queue,'' Richards says. "[Financier] Joe Giannamore, the owner of Jonathan's horse Bullet Proof, kindly offered to take the whole team across. It was the first time I'd experienced anything like that... but I could get accustomed to it,'' she laughs. "We went straight to the plane, took off, landed, welcomed the customs officers on board and then stepped off into a cab.''
It makes a change from the early days in Richards' career. She was given her first pony (bought for $250) when she was 12. Eventually she and fiance (and fellow professional rider) Tim Price travelled back and forth from Canterbury to Britain in 2003 and 2004.
The trips culminated in Richards being named reserve for the Athens Olympic team. She and Price eventually settled on Mere Farm in Wiltshire during 2005. They've stayed there since and Richards has developed a catering company to capitalise on her culinary nous. Price (32) is also a talented horseman renowned for his ability to break horses in.
"It's difficult when there's two of you,'' Richards says. "We're competitive but Tim's been amazingly supportive. He's coped a lot better than I would have if the roles were reversed.''
Richards will ride 12-year-old New Zealand-bred bay gelding Flintstar at the Games. A wrist injury meant she opted not to ride him in Aachen, instead allowing Todd to take her place in the dressage and showjumping before pulling him out prior to the cross-country.
"[The wrist injury] was a silly little accident that occurred when I came off a young horse,'' Richards says. "It seemed an unnecessary risk to take part. I've been working with Mark and the horse since Christmas so I decided to play the sensible card.
"The idea was to let the horse sample a competition like Aachen which had the atmosphere of the big stadium. It'd be hard to find anywhere else in the world with up to 40,000 people flocking in to watch.
"I also don't think there would be many teams who'd have the same trust between team-mates to work so closely developing a horse.''
The team has had a further chance to put trust into action at last week 's four-day camp in Surrey. It enabled them to bond and practise the weakest area of their eventing programme.
"Our biggest concern is getting left behind in the dressage,'' Richards says, who did not compete in last year's test event at the Greenwich Park venue. "You're competing with the supreme movement and presence of the German and Dutch horses. The cross-country is where New Zealanders tend to be in their element as tough, determined riders.''
By Andrew Alderson

Email

Andrew