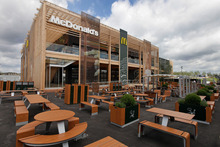 1 Runner Guor Marial, a Sudanese refugee without a passport, is the first athlete in Olympic history to represent no nation.
4 The number of skeletons found and removed during the construction of the new aquatic centre in London revealed a prehistoric settlement.
906 The number of medals to be contested across 36 disciplines by 10,500 athletes from 204 countries.
21,000 Communicating the Games to a potential worldwide audience of 4 billion people will be 21,000 accredited media.
541 The number of life jackets needed across five sports at the Games - canoeing, marathon swimming, rowing, sailing and triathlon.
2 The number of events at the Games without male competitors - synchronised swimming and rhythmic gymnastics.
2012 Fans have 2012 unique official pin badges from which to choose, while stamp collectors can gather 30 different designs.
150,000 The athletes' village will be stocked with 150,000 condoms; 100,000 proved insufficient at the 2008 Beijing Games.
2000 The number of images captured per second by the photo finish camera on the athletics track.
4 Athletes seeking some divine intervention at the Olympic Stadium have four prayer rooms in which to solicit assistance.
269 The number of women in the US team, the first time American women have outnumbered men (261) at an Olympics.
185 The number of athletes representing New Zealand in London, the exact same as in Beijing four years ago.
2000 More than 2000 newts were removed from the waterways in Olympic Park and relocated to the Waterworks nature reserve.
500 The number of staff employed at the McDonald's restaurant built in Olympic Park, the largest in the world.
1.34 The percentage of actual gold in every gold medal, with the rest consisting of copper.
71 Japanese equestrian Hiroshi Hoketsu will be the oldest athlete at the Olympics but, at 71, only the second-oldest ever.
200 The number of buildings demolished to accommodate the new 500-acre Olympic Park in Stratford.
9.58 Usain Bolt's 100m run of 9.58 seconds in 2008 is the least amount of time ever needed to win gold.
400 Badminton shuttlecocks can travel off the racket at speeds in excess of 400 kilometres per hour.
10,000 The number of temporary toilets set up for fans around London, enough to service the entire population of Malta.
- APNZ
By Kris Shannon

Email

Kris