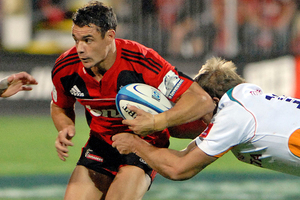 Could Dan Carter see out his footy days in the NRL?
The possibility has been raised by former Wallabies and Reds halfback Peter Slattery, who says in his column published by several Queensland papers this week that Carter is "considering moving'' to the NRL, along with Sonny Bill Williams.
Simon Porter of Carter's agents, the Essentially Group, is emphatic it won't happen.
"There has been no dialogue or discussion whatever with any NRL club,'' he said.
Carter, who is believed to be a Broncos fan, said two years ago that he would love to play in the NRL but couldn't see it happening at that stage of his career. And he might risk being disowned by his dad, Southbridge rugby stalwart Neville Carter, if he even thought of changing codes.
The only league he watched was State of Origin, said Carter senior. The NRL suggestion was "all speculation,'' he said. "He wouldn't do anything without first approaching me, and he's not been to see me.
"There's been quite a few stories about different places he's going to.''
League agent and former Kiwis coach Frank Endacott said there had been nothing on the league grapevine to say Carter was making a switch. And at 30 he was too old to, even though he was a fantastic rugby union player, he said.
"He's talented but it would take a long time to adapt. He would be a No 6, and to be No 6 you've got to push your team around the park, and you've got to have a good understanding of the game.''
If he was 22 he would have time to adapt, Endacott said.
Perhaps the 13-man code lost Carter 15 years ago.
"I heard he went to play league when he was about 15 and the coach said he wasn't big enough for NRL,'' said Endacott. "He'd have to be the dumbest bloke of all time.''