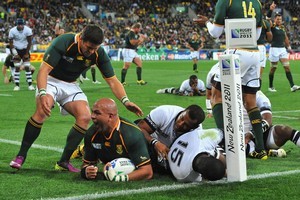 To Springbok eyes, their next couple of World Cup games are all about taking steps.
Fiji was a significant step forward from Wales in the opening pool D game; near-neighbours Namibia at North Harbour Stadium, should be a romp; Samoa in at the same place next Friday night will represent the last opportunity to polish the defending champions game before a likely colossal quarter-final against Australia.
"There are aspects in our game we still believe we can improve on," assistant coach Gary Gold said yesterday.
"When we measure our performance at the end of the game, we'd like to see we are continuing to grow in those areas."
This is where things tend to get a bit tricky.
How to quantify progress from a game in which South Africa are expected to plunder the lightweight Namibians - perhaps, if they're singing sweetly from the same songsheet, push towards a century.
At this point the expression "processes" came out. This is a word management and players across the sporting spectrum are wont to use. You know what they mean, but it's a word which can deaden the mind.
Gold said points to note out of the 49-3 dusting of Fiji are the need to hold the ball better, be more direct and "look to be able to earn the right to build up enough momentum against the opposition that you can try various different things".
He acknowledged the significance of this particular game.
Geographically speaking, it has special resonance for players on both teams.
"A lot of the Namibian guys know our guys, probably more intimately than a lot of other people we get to play in international rugby," Gold said.
"Many of them play club or provincial rugby in South Africa. These guys have got a point to prove.
"Many of them are friends with our players. Pride is at stake. Rugby is in their blood as much as it is in ours."
Subtext: no taking liberties will be a key message, and most likely keep pressing the accelerator as the score mounts.
The teams have met once before: a 105-13 win in Cape Town four years ago.
A similar scoreline tonight? You hope not, but it depends how much starch the Namibians muster if things start to go badly pear-shaped.
The Weltwischias, as they're known, have made six changes from the 49-12 loss to Samoa.
Nine of the starting XV played in that Cape Town match. Any trepidation? Halfback Eugene Jantjies hopes not.
"There might be some players with fear but they shouldn't be scared because we've been preparing for the game for four years," he said.
Captain and flanker Jacques Burger is among the more respected loose forwards in English rugby at Saracens club. His nose shows the signs of a player who has done his share of time in the hurly-burly areas of the game.
Pressing claims for big games ahead should figure in players' minds.
But burly loosehead prop Gurthro Steenkamp was at pains to stress the importance of not looking beyond the immediate challenge.
"We haven't even thought about the playoffs," he said.
"Our focus is Namibia. We still have to play Samoa. Then whatever happens from there we'll focus on."
Steenkamp, a veteran of the 2007 campaign, expects Namibia to play out of their skins - Gold said they would likely view it as their cup final - and "it will take a lot of hard work to make sure we get our structures in place.
"It's not just about pitching up and playing a game."