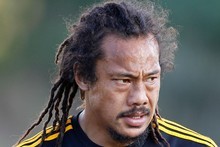 Excitement and anticipation in the air will translate on to the field where the players know so much is at stake.
The juices are already flowing - rugby is under way and the New Zealand teams and players should aim to hit the ground running in the Super 15.
People always go on about the All Blacks peaking too early.
But instead of seeing 2010 as a potential peak, or worrying about the "peaking too early" concept, last season should be regarded as the stepping stone that inspires even better performances from our players and teams this year.
And forget about the slow build-up theories for 2011, I say. The mood shouldn't be about hoping to emulate last year's standards and wondering if that is good enough to win the World Cup.
Instead, a confidence and belief that we can go significantly further will lead to much more, and also send a shudder through the camps of the other World Cup contenders.
Raise the bar, from the outset.
The moment is here, right now, to put a heavy foot on the accelerator. Set new standards from the beginning, and build on them. Rugby is always evolving - the game doesn't stand still any more and those who do will get left behind.
Starting slowly also runs the risk of allowing cracks to appear and doubts to grow.
I believe a mood of confidence among the fans plays an important part, to help re-affirm self-belief among our players.
The late, great New Zealand weightlifter Don Oliver used to say "train with dedication, compete with expectation", which is an excellent motto to adopt.
There is a sentiment that the World Cup is many months away and we don't need to go on about the tournament just yet. I don't agree. This is something to enjoy for as long as possible. Excitement and anticipation in the air will translate on to the field where the players know so much is at stake.
This season may actually go way too fast for some of them, the ones whose hopes are dashed by injury, form problems or even playing in teams that are struggling.
The players should believe that every moment counts. History beckons, as does the chance to be part of an amazing ride, to play in a World Cup tournament.
This includes Tana Umaga, supposedly the grand old man of New Zealand rugby, who is making a Super Rugby comeback with the Chiefs and won't be eyeing up a rocking chair yet.
Umaga hasn't said too much, apart from confirming he won't rule anything out. He'll be thinking about winning back his place in the All Blacks, you can bet on that. The World Cup is unfinished business for Umaga.
Don't cross out Rodney So'oialo either. These sorts of super competitors are always pushing themselves, forever finding carrots dangling in front of their eyes. The public may write them off, but they never write themselves off.
And a young superstar-in-the-making like Wellington wing Julian Savea has no time to waste in a World Cup year - rather than seeing life as foregone conclusions he can grab every chance, make a case that no one can ignore and aim for the very top.
As for the Super 15 competition, I'll sit on the fence about the new format, and see what shape it begins to take. I have a feeling that it may favour the stronger teams, but that's only a hunch.
Finally, I believe that winning the World Cup this year may be our best and perhaps only chance of ever staging the tournament in this country again. I'm getting a bit ahead of the game there, so enough of that for now. But we were probably fortunate to get this tournament in the first place - another reason to relish and embrace the year ahead.
Inga's Crystal Ball
Early days yet ... but the Crusaders to win the Super 15 title with the Waratahs major contenders.
Ali Williams will score a try on his Blues comeback against the Crusaders.
Big Crusaders centre Robbie Fruean to force his way in to the World Cup squad.
Young Wellington wing Julian Savea is my long-shot pick for the World Cup squad.
By Inga Tuigamala