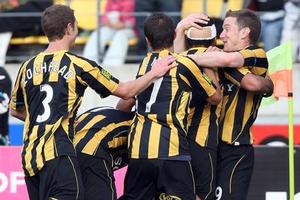 The Wellington Phoenix broke their run of six consecutive draws in spectacular fashion with a 6-0 soccer A-League thrashing of Gold Coast United tonight.
Ahead 1-0 at halftime, four second-half goals in the space of 10 minutes helped carry the Phoenix to their biggest win in the competition. Their previous best came last year with a 4-1 win over Perth.
Today's result also equalled the biggest winning margin in the A-League's history, Melbourne's 6-0 annihilation of Adelaide in the 2007 grand final.
Going into today's match, the Wellington-based Phoenix had totalled just nine goals over 10 games.
They were last on the table after North Queensland Fury upset Perth Glory 2-1 last night and this result will lift them to either seventh or eighth.
Three weeks ago, the Phoenix's lack of finishing saw them eke out a scoreless draw with Gold Coast United at Skilled Park on the Gold Coast. Today, the team's composure in front of goal was oustanding.
Brazilian midfielder Daniel, stretchered off with a knee injury in last week's 1-1 draw with the Fury, picked up the Phoenix's first goal after 28 minutes.
Fullback Tony Lochhead - playing his 50th match for the club - slipped a perfectly weighted pass through to English striker Paul Ifill, who found Daniel on the near post.
In what had developed into a scrappy game, the Phoenix worked hard at shutting down United's attacking game, with former Phoenix and current All Whites striker Shane Smeltz closely marked and largely anonymous.
However, given the Phoenix's paucity of goals this season -- particularly in the second half of their matches -- coach Ricki Herbert must have been concerned at the break with his team only a solitary goal up.
They had managed six corners and nine shots on goal to one of each for Gold Coast, yet had managed to convert just once.
It took midfielder Tim Brown just three minutes of the second half to double the Phoenix's lead, after a beautiful through ball from Ifill found him with only goalkeeper Jess Vanstrattan to beat.
Brown showed commendable composure in rounding the keeper and calmly rolling the ball into the net to make it 2-0.
The goal signalled the beginning of a golden run for the Phoenix -- Daniel slotted home his second of the match five minutes later, then set up English import Chris Greenacre barely 60 seconds after that to make it 4-0.
Ifill, who showed superb vision and touch right from the first whistle, was rewarded with a goal after 59 minutes as his strength in front of goal and shot on the turn gave the Phoenix a 5-0 lead with 20 minutes remaining.
Troy Hearfield inflicted the final indignity on a demoralised Gold Coast with eight minutes remaining, as he latched onto a searching Adrian Caceres ball into the area and made it 6-0.
A jubilant Ifill afterwards paid tribute to the team's patience after the frustrating run of draws.
"I said before the game I thought somebody wouldd get a spanking, but I wasn't sure if it was going to be this week," he told Radio Sport.
"The way we've been playing it's just a case of hitting the back of the net. We got those four goals in 10 minutes in the second half, and we'd killed somebody off at last. It's been a long time coming."
Ifill said the team had remained focused at the break.
"At halftime we said 'we've got ourselves in a great position, they're there for the taking. Let's go out and put it to them in the first 15 and see what happens'."
- NZPA