24 CHANNEL VIEW RD, CAMPBELLS BAY
PRICE INDICATION:
CV $2.68 million.
INSPECT:
Sat/Sun 3.15-4pm. Set sale date 12pm, September 11.
SCHOOL ZONES:
Mairangi Bay School, Murrays Bay Intermediate, Rangitoto College, Westlake Boys' and Girls' high schools.
CONTACT:
Tara Menzies, ph 021 720 307, or Ailsa McArthur, 027 298 4000, Bayleys.
FEATURES:
* Plus double carport.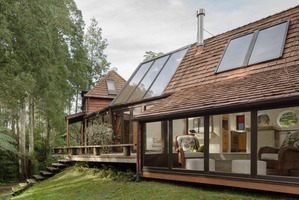 Architect Ian Athfield is renowned for his unconventional style and his love of injecting humour and whimsy into his designs.
All those elements are at play in this Campbells Bay home -- built for the Cole family in 1975 -- with its bottle towers, portholes, changes in ceiling heights and floor levels, varying materials and finishes, and intriguing spaces.
The present owners, who have lived here for four years, were familiar with the Wellington architect's work and loved the way this quirky home was tucked into its own bush setting "as though you are not in the city without having to leave the city".
Set well back from the road, the weatherboard and plastered concrete home has a shingle roof and sits in what is essentially its own bush reserve, with mature kahikatea, rimu, ponga and cabbage trees providing a serene setting. A wide wooden walkway spans a stream that meanders through the property, and creates a sense of arrival at the double front doors.
Inside, a variety of formal and informal living spaces have windows and doors opening out to decks or the bush itself.
Featuring a dizzying array of levels and secluded spaces, the home has two main living areas with gas fires. The informal living area sits next to the kitchen, which steps down to a conversation pit/dining area that opens out to the bush. The formal lounge at the western end of the house also has a conversation pit opening to a patio, as well as a mezzanine floor that could be used as a library or study.
As one of the owners says: "A lot of houses tell you how to live in them but this one doesn't do that. We've moved furniture around and used rooms in different ways because it's such a flexible place when it comes to working out how you want to live in it."
Upstairs is the adult wing, with two double bedrooms on different levels and a bathroom that is pure Athfield flight-of-fancy and references his love of Greek Island architecture. Sitting in one of his signature bottle towers, the bathroom has a shower tucked into a curved corner with concrete stairs that are part of the white-plastered walls rising in a spiral to a platform with a claw-foot bath tub sitting under a skylight.
This sort of playfulness is also evident in the children's wing, which the owners call "Hobbiton" because of its low ceilings and series of little curved rooms with portholes. At the entry to "Hobbiton", a beautiful timber staircase encloses you and spirals up to the "princess tower", a delightful bedroom with cathedral ceilings. Emerging from the staircase to this room is typical of Athfield, who loves to create a sense of surprise and wonder.
As the owner observes, "There's a degree of craftsmanship here that you don't see in other buildings. There's a built-to-last aspect to it in the materials that have been used such as the timber, concrete and copper."
From this bedroom you move past a bathroom and through another bottle tower that has a bridge connecting the house to the swimming pool area. This more conventional space behind the house sits out of the bush and was added later. It features a spa pool and an outdoor fire, with a lawn surrounding it.
Stacked schist walls have been used to define the landscaping at the rear of the property, while a network of schist paths invite you to explore all around the house.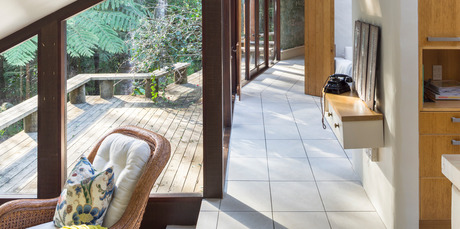 With two teenagers, the owners have found the loft with kitchenette over the double carport handy when friends from school or their sports teams have stayed over. The triple garage has an overheight bay suitable for a boat as well as a mechanic's pit for working on cars.
With their children growing up, the owners have moved on to a new property but will leave with fond memories of an inspiring home in a special setting.
"It's a fantastic place to have barbecues and have kids over because everyone can find their own space," one of the owners says. "We have had a blast in this place, and for the kids it's been like having their own adventure playground."