162D WHITIPIRORUA ROAD, COROMANDEL PENINSULA
SIZE:
Land 15.8ha, house 140sq m
PRICE INDICATION:
$4.7 million plus GST if any
SCHOOL ZONES:
Whangamata Area School, Opoutere School
CONTACT:
Dave Anderson and Renee Jacobsen, Ph 0800 365 912; (07) 865 8491; Mob 021 790488
FEATURES:
*plus sleepout. Lockwood home looking out to sea on large piece of land with grazing, post-and-rail fencing and track down to beach.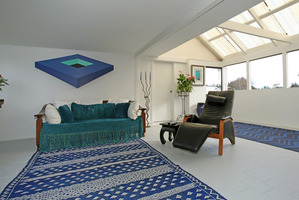 Ask Vivienne McIntosh and Ian Moses how they came by their coastal property on the Coromandel, and Vivienne begs to be allowed to tell.
"That's my story," she says with a laugh.
"We were living in California and every year we came back to see my parents in Byron Bay and Ian's parents in Auckland. I hadn't been to New Zealand before we met so I asked him to show me a different place each time we came."
Ian had always talked about the Coromandel and going there as a child, so Vivienne went online to see what it was like.
"I put in 'Whangamata' and up came this property straight away," she says. "I said: 'That looks pretty amazing - let's go there and have a look'."
It was no contest. The house, the acreage and the beach won them over immediately. As Vivienne says, "A farm with a beach is a dream come true."
The white-sand beach is fringed with pohutukawa and offers good fishing, diving, surfing and lazing. They bought the property in 2006, coming back and forth for holidays for the first couple of years, and moving back permanently four years ago.
It's just a short drive from Whangamata with its cafes, shops, harbour and marina, and only a couple of minutes from the little settlement of Onemana, which they visit often to dine out at their favourite restaurant.
They describe their house as a beach house, although it's certainly more substantial than a typical Kiwi bach. Built as the original farmhouse, it's a Lockwood home with four bedrooms and large living areas that look out to the sea. The views stretch from Slipper Island and the Aldermans to the north, out to Mayor Island and the Bay of Plenty to the south.
"You can tell this is a place where the views are everything," Vivienne says, "because all the furniture faces the windows."
Previous owners added a loft and what Vivienne calls "the white room" - a serene space with high, beamed ceilings, a glass roof and white painted walls which serve as the perfect backdrop to several artworks. They've made very few changes to the house, but a lot of development work has been done on the land.
There was a stand of pine on the 15.8ha and 700 trees were taken down to open up the sea views. They've also upgraded the access track to the beach and put in post-and-rail fencing.
The land is inhabited by sheep, hens, a rooster and two chihuahuas.
The property has also been a base for Ian's thoroughbred breeding business, offering a good acreage just a couple of hours from Auckland.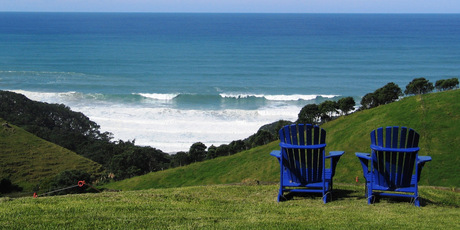 Now, though, he wants to expand the business and the couple is planning a move to Scone, a charming country town in the Upper Hunter region of New South Wales, known as the horse capital of Australia. More than 70 studs are dotted around the shire, and the regional thoroughbred industry there is said to be second only to Kentucky in size and value.
It's an exciting and progressive move but they're unlikely to find a farm with a beach there.
"We've lived all around the world and you wouldn't find a better beach than this one," Vivienne says. "In all the time we've been here we've never seen more than a dozen people on it - and they were our friends!"