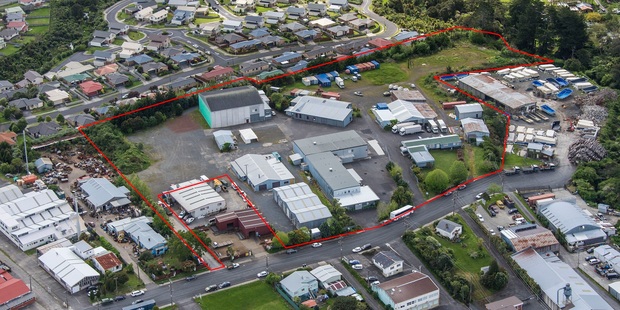 Studio West film production site in Glen Eden, West Auckland, could be the cheapest industrial-zoned land parcel of its size for sale in Auckland, according to brokers marketing it.
The property is spread across two freehold titles of 1.38ha and 1.61ha, which are available for purchase together or separately.
"The site totals nearly 3ha of industrial land and is probably the best-priced opportunity of its kind available in Auckland at the moment," says Adam White of Colliers International, who is selling the property with colleagues Chris Upright and Shoneet Chand.
The property, at 16 and 20 Waikaukau Rd, Glen Eden, is in Colliers' latest New Zealand Portfolio and is being offered for sale by deadline private treaty closing on December 11. The facility is one of New Zealand's largest movie studio and television production sites and has been occupied by Studio West for the past 11 years.
Several well-known TV series and films including Power Rangers and Xena Warrior Princess have been produced there.
Upright says the sale represents a prime chance for land bankers, occupiers or developers to secure low-cost land with 5607sq m of existing buildings in Glen Eden's industrial hub.
"This large property offers a lot of flexibility for a number of different buyer groups. We see it as likely to primarily appeal to owner occupiers looking to acquire a significant holding in this area at an attractive price, who could make use of the buildings and yard space on site."
Owner occupiers operating in the film or TV production sector could move straight in and start making use of the existing buildings, while occupiers in other industrial sectors and developers could elect to treat the site as a brownfields redevelopment opportunity and construct a new facility from scratch, Upright says.
"There is definitely value in the existing buildings on the site, as they could be used by owner occupiers, especially in the media production industry. However with the affordable cost of this land, and its sheer size compared with other industrial land parcels available in West Auckland, the property presents an excellent opportunity for an add-value buyer to build anew."
Flexible terms are on offer to buyers, who may wish to collect holding income with the property able to be bought with leaseback or part-settlement options in place. It could also be bought with vacant possession and for land banking.
Chand says a number of buildings on-site cater to the occupier's needs.
"There are workshops and paint shops where sets and props are made, carpentry shops, offices, three separate studio buildings, costume and art department buildings, prop storage facilities, garages and other storage. The studio buildings also have associated offices, make-up and hair rooms."
Large areas of undeveloped land are also included in the titles.
The property is in the Glen Eden industrial hub, on the western side of Waikaukau Road, a cul-de-sac that runs off West Coast Rd, which is about 1.5 km from Glen Eden town centre.
The site is earmarked for light industrial zoning under the Auckland unitary plan allowing for the widest range of permitted activities.
"A key attribute of the proposed zone is that it contains sites large enough to accommodate large-scale industrial activities," says Chand.