22A & 24A MT HOBSON RD, REMUERA
SIZE:
Land 1491sq m (in two titles, 660sq m and 831sq m), house 255sq m.
PRICE INDICATION:
Inviting interest upwards of $2 million. Auction September 11 at 3pm.
INSPECT:
Sat/Sun 12-12.45pm.
SCHOOL ZONES:
Remuera Primary School, Remuera Intermediate, Auckland Grammar, Epsom Girls' Grammar.
CONTACT:
Rob Ashton, Bayleys, ph 021 633 398.
FEATURES:
Completely renovated house on the side of Mount Mount Hobson, with expansive formal grounds and gardens in two titles. Featuring luxurious cook's kitchen, formal and informal dining and three living spaces, plus outdoor covered terrace with fireplace. Renovated bathrooms, fireplace, plenty of storage and gracious period features.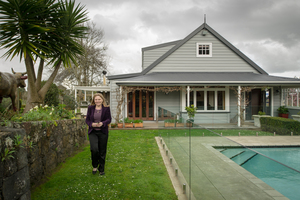 One of the first questions HeraldHomes usually asks a homeowner selling their house is "What attracted you to this house when you bought it?" But one glimpse through the living room windows of Sheila's and Tom's Remuera renders the question redundant.
Smack up against the back fence is the green slope of Mt Hobson, with a herd of contentedly chewing cows.
"In the nearly 12 years we've been here, we still love looking out our bedroom windows to the green grass, and cows. You can't see any buildings, nobody can see you," says Sheila. "We face north, we get the sun all day; you wouldn't believe this is the city."
When the family bought the property, it had been subdivided off two older properties further down the slope, so the couple have cleverly left the huge, nearly 1500sq m section in two titles. The flat land of the second property houses a magnificent set of deciduous trees and a long sweep of swimming pool, framed by stone walls and English-style flower gardens. Which is fitting, given the house is an old cottage that was moved to the section around 20 years ago and completely renovated.
Sheila and Tom did some rearranging of the floor plan to improve the flow of corridors and add a ton more storage. The well-planned bathrooms - one of which features a jaw-dropping leadlight window over the soaking tubs - were refurbished with stylish fittings and honed granite benches. But it was in the kitchen where cooking-mad Sheila really went to town.
"I am a bit obsessive," she laughs, waving her hand at shelves and shelves of cookbooks.
"The colours were inspired by my collection of Bridgestone china. We live here at the bar. A lot of lies have been told around this bar."
And some compliments to the chef, too, no doubt. The rich plum cabinets and greenstone-like marble counters are stylish contrasts to the stainless steel pair of dishwashers and 1200mm of Ilve Majestic cooker. With seven rings, a teppanyaki grill and two ovens, this is a cook's dream. Sheila's obsession continues with a counter outside the bi-fold windows on the entertaining terrace: cupboard after cupboard houses extra dishes and glassware for parties.
The covered spot, gazing back at those cows, includes a beaut fireplace for long evenings. A second deck off the dining room opens to the glass-walled pool and lawn.
There is ample indoor entertaining space, with a formal lounge off the roomy lobby opening into a cosy media room. The couple added another fireplace here below the built-in flat screen.
The ground floor includes two spacious bedrooms, still with their attractive cottage ceilings and windows, while upstairs is the master bedroom with those mountain views. Did I mention Sheila's obsession with storage? The master suite includes separate his and hers dressing rooms. A final bedroom is used as Sheila's office, this with views past Dilworth school all the way to the Waitakeres in the west.
So, the final question - why move? With their daughter about to leave home for university, the family no longer need to be in the Grammar zone and plan to move to the city or Ponsonby. "Although every time I look at that mountain, I think I am mad," says Sheila.
However, one happy buyer will take one look at that view - and the lifestyle Tom and Sheila have created - and be equally smitten.