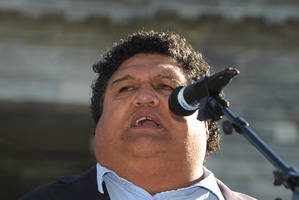 'Don't speak ill of the dead' is increasingly the practice when it comes to the death of public figures - nowhere more so than in Maoridom. The responses so far to the death of MP Parekura Horomia are unsurprisingly focused on his political achievements and on the strong consensus about Horomia's affability.
But the Herald's Audrey Young has gone against the grain by writing a very fair, but controversial column, Horomia - the good and the bad. She draws attention to his political strengths and weakness, in particular to Horomia's role in helping Labour push through the Foreshore and Seabed legislation, and keeping the Maori electorate onside when Labour could have been wiped out in the Maori seats.
Similarly, today's Herald editorial points out that his refusal to depart along with Tariana Turia was hugely important to Labour: 'His decision not to leave with her was probably crucial to Labour's retaining three of the seven Maori electorates at the 2005 election.
If all of the seats eventually return to Labour, as seems possible now, he will have a hallowed place in the party's memory' - see: A quiet man whose contribution was huge. While his impact was effective for Labour, others saw the saga as a lesson in why an independent Maori political movement was needed. With both the Maori and Mana parties gaining a foothold in Parliament, the final outcome of those torrid times will play out without Horomia's considerable influence.

It seems universally agreed that Horomia was loved and respected by those he worked with. Brian Edwards' Anecdote about A Lovely Man is one of the most insightful responses, and argues strongly that nothing negative should be said about him, because 'He was a lovely man and little more needs to be said'.
The column also provides an interesting look into the political spin world, with accounts of media training Horomia, and how he learnt to give one-word answers instead of his usual tendency to verbiage. David Farrar makes a warm tribute in RIP Parekura Horomia, illustrating how his personal qualities often more than made up for his political shortcomings.
Morgan Godfrey also gives a very personal and warm tribute to the man he used to work for - see: Kua hinga he totara i te wao nui a Tane. Even Labour's arch-enemy Cameron Slater has kind words to say in Remembering Parekura. And other sympathetic words from political opponents and allies can be read in TV3's Horomia's 'king-sized' life remembered.

Journalists are also offering tributes. Nick Venter reflects on the day that he witnessed the Minister of Maori Affairs prove to Maoridom that he was the right person to be in the job - see: The moment Horomia revealed his mana. And Yvonne Tahana says Horomia was a Hard worker who always wore a smile.

The public reaction to Parekura Horomia's death is being contrasted to the response to the recent passing of Margaret Thatcher. This has sparked a small flame war on Twitter and some blogs, well covered by Peter Aranyi in Mourning public figures The Right Way. See also David Farrar's Total hypocrisy.

The reaction to Thatcher's death has been hotly debated worldwide. Glenn Greenwald at the Guardian recently argued that influential public figures shouldn't escape criticism at the end of their lives - see: Margaret Thatcher and misapplied death etiquette.
Similarly, two Canadian political scientists argued that 'To choose to enter the public realm, to accept the privilege of exercising political influence, one must agree to exit it under the same conditions' - see: Why 'speak no ill of the dead' shouldn't apply to Margaret Thatcher.

Nonetheless, the focus of debate will soon turn to the impending by-election in Ikaroa-Rawhiti. Newstalk ZB details the process needed to bring the by-election about: 'Parliament's Speaker will announce to Parliament, most likely next week, that there is a vacancy in the Maori electorate. The Governor-General will have 21 days to act on the advice of the Prime Minister and announce a by-election date' - see: Tolaga Bay to burst at the seams for Horomia's tangi.

Speculation is building about the nature of the contest, although Labour seems assured of retaining the seat - see By-election for Horomia's seat within months. Tova O'Brien reports that Derek Fox is out of the running, and that 'A successor being tipped is Meka Whaitiri, the chief executive of Ngati Kahungunu' - see: Town to swell for Horomia tangi. And Maori blogger Tim Selwyn looks at some other possible candidates in A nexus of interconnected decision-making... and other Horomiaisms.
Such by-elections are rare, according to Vernon Small, because the last one caused by the death of a sitting MP was in 1985 with the death of Timaru MP Sir Basil Arthur - see: Key to miss funeral after change of day.
In the meantime there's a tangi to be held. Air New Zealand is putting on extra flights, the Labour Party has chartered a plane so that the whole caucus can attend, and the Defence Force has been called in to provide catering for what is increasingly looking like a state funeral.

Finally, you can see my own blogpost with Images of Parekura Horomia.

Other recent items of interest include the following:

Over twenty years after its one and only broadcast, TVNZ's Frontline programme, For the Public Good, about political funding is still contentious. TV3's Media3 discovered this last week by way of various legal threats and restrictions when trying to look back at the controversy - you can watch the special: Media3 on For the Public Good. The consensus seems to be that the TVNZ journalists 'stuffed up telling a good story', but this is disputed by Chris Trotter: 'for all its production and journalistic short-comings, was a programme based on the moral truth of what had happened to New Zealand in the years since Avalon's dreamers of the day attempted to arm the New Zealand electorate with accurate information about all political alternatives' - see: Dreamers Of The Day.

Who is 'Person A'? This mysterious figure is being accused of leaking MFAT secrets - see Tracy Watkins and Kate Chapman's Details about report 'leaker' suppressed. David Farrar says 'The identity of Person A is well known around Wellington' - see: Person A.

Rugby star Michael Jones has come out in support of the beleaguered Susan Devoy - see Claire Trevett's Jones defends Devoy's race role and says his hat was in the ring, and No Right Turn responds by labeling this all National's celebrity-cronyism.

The Labour-Greens power policy is more about partisan politics and nostalgia than a realistic attempt to lower power prices says Colin Espiner - see: Labour gives green light to power play for votes. Another expert criticises both the substance and timing of the policy: see Hartwich on the power plans but the Greens claim undeclared self-interest may be behind many of the attacks - see Hamish Rutherford's Green Party claims critics' conflicts of interest. Despite the furore another expert thinks the single buyer policy is actually less of a worry for MRP investors than water pricing and Tiwai point - see: Labour-Greens policy far down the list of MRP's biggest worries, says Woodward.

The furious reaction of the right to the electricity reform policy is in sad contrast to the much quieter condemnation of the Government's latest poke at unions and workers thinks Chris Trotter - see: Left wavers on workers' rights attack.

'Nice to have but we just can't afford it at the moment' is the Government line on extending paid parental leave in the face of polls showing nearly two-thirds of voters support the move - see: TVNZ's Government veto of paid parental leave 'an overreaction'. There will no doubt be close scrutiny of this month's budget to see what policies are considered worthy this year.

The 'three strikes' justice policy is being debated at the moment - see Marty Sharpe's Parties would change three-strikes law. Overseas experience has shown that 'three strikes' imprisonment policies can have unintended consequences. No Right Turn asks if some caught up in it are really "The worst of the worst". There is still some flexibility for judges if a genuine injustice is likely to happen responds David Farrar in Strike Two. And Peter Cresswell points out The fatal flaw of "Three Strikes".

Kim Dotcom would just escape extradition if public opinion, rather than the legal system, was the deciding factor, according to Patrick Gower's Should Dotcom be extradited?. The GCSB just squeaks in as well with 50% saying they can trust the spy agency - see Kate Shuttleworth's Voters divided over whether GCSB can be trusted.

Martyn Bradbury has been busy recruiting celebrity bloggers to his Daily Blog, the latest of whom were announced today - see: Charles Chauvel among new bloggers to join 'The Daily Blog'.

Finally, it's May Day, and local playwright and leftist Dean Parker says: Lenin deserves a happy birthday.