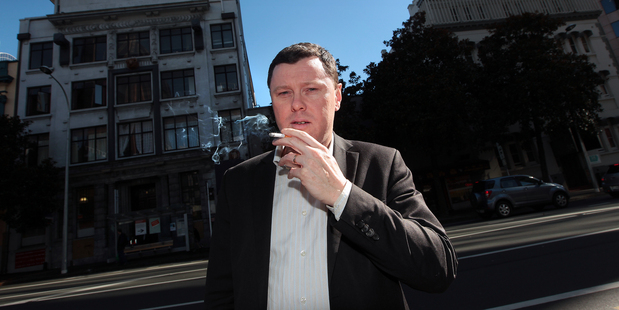 Smoking is dead sexy. We all know it.
I may not be the best proof of this, as I fag away on a sooty street corner outside my office, but there is something seductive about a well-drawn cigarette. Marlene Dietrich knew it. Audrey Hepburn lived it. Humphrey Bogart lived and died it.
Herald on Sunday columnist Damien Grant says a cigarette between the lips gives a touch of James Dean swagger to even the mildest of office workers. "You would not marry a smoker, clearly - but a dangerous liaison, certainly."
Once, New Zealanders took up smoking because everyone else did it. The army gave our soldiers a ration of cigarettes during the war.
Now, young people start smoking because it's dangerous, risqué. It gives the finger to those parents and teachers and pursed-lipped health workers who try to box them into an older generation's definition of how they should live.
Teenagers don't aspire to settle down, get a stable job and buy a house in suburbia.
They want to win The X-Factor, invent a smartphone app that earns $100 million, snort cocaine off a glamour model's tummy in Manhattan - and failing all that, at least dream big over a cigarette.
Not everyone has fond memories, or any memory, of the first time they had sex. But we smokers, we all remember our first cigarette. It is a personally defining moment, just as the assassination of JFK or the downfall of the Twin Towers were globally defining moments.
For myself, many cigarettes are dragged down without a thought as I stand on the street proofreading editorial copy and emailing freelance writers from my smartphone. (If there's one thing smokers can do, it's multi-task).
Occasionally, though, comes that cigarette de l'amore. Perhaps I've been in meetings all day and this is the first cigarette in six or seven hours. Perhaps it accompanies that first hard-earned beer after first edition deadline, late on a Saturday night.
As I draw in, the smoke tingles on the tip of my tongue, the nicotine surges through my bloodstreams deep into my brain, and I remember that very first teenage Dunhill on the platform at Ava railway station in Petone.
That was more than 20 years ago, though.
Now, I have that house in suburbia, a beautiful wife and two young sons, Monty and Joe. And when I wake up at 3am, coughing, there's another image imprinted more prominently than any nostalgic flashback to my teenage years. It's the faces of my two little boys, and the terrifying realisation that if I don't sort myself out, I might not be around to see them grow up.
The Herald on Sunday launches its Quitters campaign today, working with the University of Auckland and the Wero quit smoking contest to encourage smokers to team up with their friends, sports team or workmates to quit smoking together - and win prizes for their chosen charities. I'm one of the 10 smokers who have signed up for the Herald team, and from September 1, we'll be trying to quit. Ours is one of dozens of such teams around the country who will be competing to quit for the subsequent three months, welcoming the support of other quitters, and facing down the potential public humiliation if we fail.
If you're a smoker, think about whether you want to put together a team of 10 at your workplace, church, marae or sports club. If you've got a friend or family member who really needs to quit, give them a rark up.
Because smoking is dead sexy - but we all know what the operative word is there.