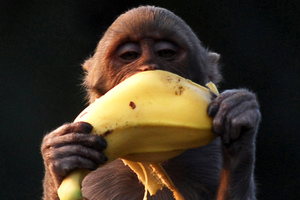 I was hugely relieved to learn this New Year that we hadn't run out of bananas.
It was predicted the world would be banana-less by now. Ten years ago this month New Scientist's cover proclaimed: "The world's favourite fruit is about to disappear".
The BBC reported: "Edible bananas may disappear within a decade if urgent action is not taken to develop new varieties resistant to blight."
Last week, the Herald reported the feared banana apocalypse never eventuated. Indeed, we are enjoying more bananas than ever before. It was great news and I have been delighting in bananas ever since.
The great banana scare of 2003 originated with Belgian scientist Dr Emile Frison. The good doctor was worried that consumer wariness of genetic modification was hindering the very research needed to prevent bananas going the way of the dodo. At the time, Frison headed a global consortium sequencing banana DNA.
Our fear of genetic modification is, in no small part, due to years of effort by Mark Lynas. By day he spent his years penning anti-GM tirades for Britain's Guardian newspaper and by night ripped up GM crops.
Lynas helped to create the image of demonic scientists making Frankenfoods and greedy corporations owning the world's crops only to starve the world's poor. He says the campaign to scare people witless over genetic modification was the most successful campaign he has ever been involved in.
Now, here's a happy coincidence. In the very week the banana was supposed to disappear Lynas addressed the Oxford Farming Conference regretting his anti-GM campaign. He apologised for being wrong. Turns out he was too busy campaigning to bother with the science. Challenged to do so, he quickly discovered the errors in his thinking.
His speech last week explained that GM means fewer pesticides, not more; benefits farmers, not corporations; is wanted and needed; and is safer and more efficacious than conventional plant-breeding techniques.
Science does that. It messes with beliefs. And upsets deep-rooted prejudices.
But fear sells. And sticks in our minds. We take for granted the glorious achievements of technology, science and capitalism. The predicted extinction of the banana was big news. Right around the world. The banana's glorious survival was hardly a media ripple.
Lynas' campaign against GM scared and mobilised the world. It wasn't hard to do. The headlines were easy and we are readily frightened by what we don't understand.
Worried New Zealanders demanded action. The Government responded by requiring risk and benefit analyses before field-testing a biotech crop. That has created a catch-22. Benefit analysis requires a field test. The field test requires a benefit analysis. Our government bureaucracy has locked New Zealand agriculture into the horse and cart and regulated the internal combustion engine out of existence.
Lynas' mea culpa won't have us breaking out the jet engines. The fear he has cultivated won't readily go away.
We've been genetically modifying bananas for 7000 years. We have bred a banana we like. And a banana that depends upon us. Our bananas haven't had sex since the start of recorded time. They have no seeds and bats no longer pollinate them. They depend on us to propagate them.
Vegans stuff themselves with the sugary, seedless, artificially-propagated bananas believing them natural. They really have no idea. They would choke on the original banana.
The bananas the vegans chew aren't what nature gave us. They're heavily genetically-modified. Not in a controlled way with scientists in a laboratory. But out in the field for thousands of years with farmers choosing the bananas that were good to grow and to eat.
We need all the science and all the technology we can possibly muster. It's not like science is bad and natural is good. More Germans died in 2011 from one batch of contaminated organic beansprouts than Ukrainians from the Chernobyl nuclear reactor disaster.
Imagine that: the worst nuclear disaster in history versus one crop of beansprouts. Organic they were, too.