Fire crews will this morning assess how much asbestos is in the ashes of yesterday's major blaze in Hamilton. An unstable wall is also hampering the investigation.
The fire at AH Franks Tyres in Anglesea St is being treated as suspicious until investigators can prove otherwise, especially as yesterday's blaze was the second in 24 hours and the third in four years.
Seven employees now face an uncertain future as owner Jim Nolen is left with a pile of ashes and charred vehicles that he was working on.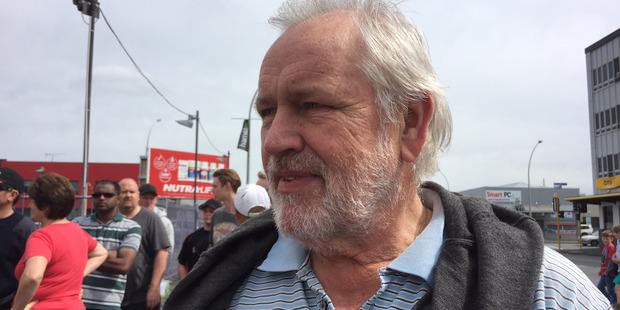 The blaze was so big at its peak that massive clouds of smoke could not only be seen from as far away as Raglan but also from the air, as plane passengers took photos of the scene from the sky.
Waikato senior fire risk manager Kevin Holmes said the priority this morning was assessing the asbestos risk.
He said wet asbestos was okay but when it dried it became a toxic risk as it floated through the air.
Asbestos can cause severe health risks if inhaled and it needs to be removed carefully. Workers charged with the job today will need to be fully covered with breathing masks, boots and boiler suits.
The scene has been cordoned off and was under police guard this morning.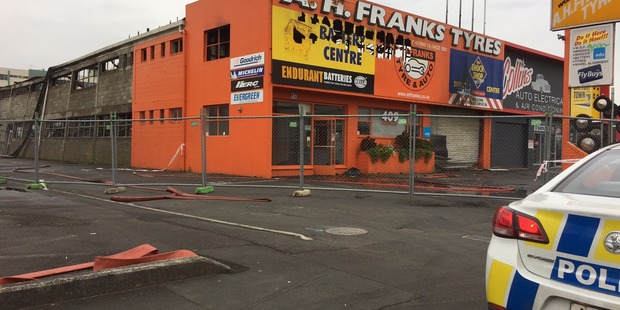 Throughout yesterday's firefighting operation, firefighters were being hosed down and their uniforms thrown in bags for washing because of possible contamination.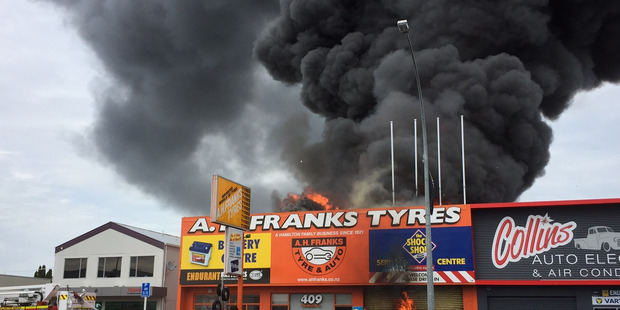 Once the level of asbestos is confirmed a decision will be made as to at what stage the unstable southern wall, which is on the verge of collapse, will be pulled down.
Fire investigators have been unable to get into the scene because of the two major risks.
Big fire in Hamilton CBD? pic.twitter.com/ijaye5Al8v

— Matt Dwen (@mattdwen) October 23, 2016
Arson is suspected in the fire, as a pile of tyres at the side of the building were set alight on Sunday night.
It is the third fire at the shop in four years.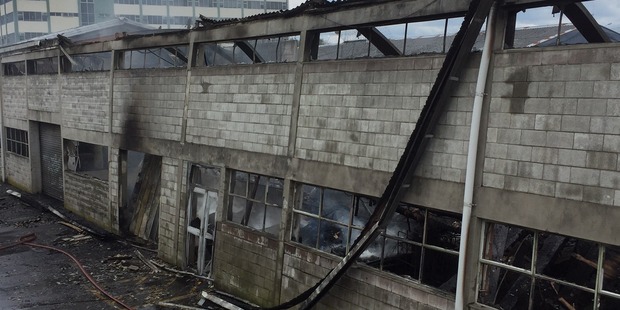 Nolen said the family business had been running for 96 years. He has owned the shop for 31 years. He arrived at the scene about 10.30am and said he was "devastated" by the blaze.
"I'm shattered, almost numb," Nolen said.
"My problems are the building has gone. That's it. End of story."
He said he was not aware of too many enemies, despite Sunday's arson.
"[Sunday's] one was deliberately lit. We don't know about [yesterday's] and according to the fire officer I was speaking to it could be difficult to determine because it's such an intense blaze. We may know, we may not, but we won't know for a long time."
He said he thought when his daughter phoned to say his business was on fire that she was confused with Sunday's arson.
"I was like 'no, no that was yesterday'."
But then he checked.
Standing helplessly at the scene as firefighters battled the blaze, he said he was a "stunned mullet" as he came to terms with what happened.
Waikato fire acting area commander Mark Tinworth said about 16 appliances attended the fire.
"If the guys had gone inside it would have been [very dangerous] absolutely. The tyres themselves burn very hot. A lot of unburned fuel makes it very dangerous for firefighters and very, very hot. Hence the external fire attack."
Collins Auto Electrical is attached to the tyre shop.
Owner Jason Land was at the shop when he heard noises, including explosions, then ran outside to see what was happening.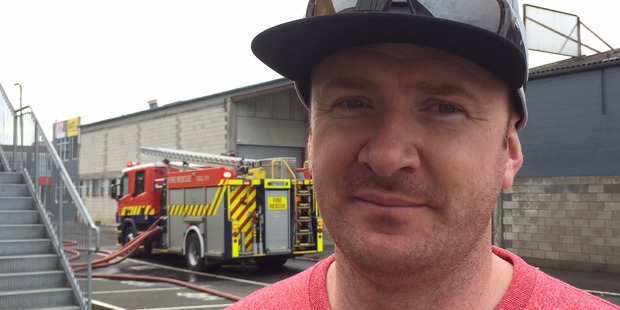 He managed to remove about six customers' cars they had been working on to a neighbouring car park.
However, thanks to a firewall separating the two businesses his shop escaped relatively unscathed. Just a small amount of water seeped through.
"I think we were a bit lucky."
His business was closed today as it was part of the area cordoned off by fire investigators.