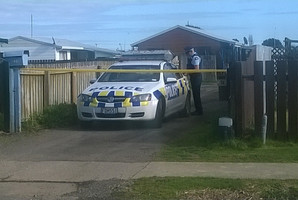 Two men will appear in court tomorrow in relation to a fatal brawl in Opotiki on Sunday, while a further seven people were arrested after disorder in the town yesterday.
Police have charged a second man, a 20-year-old man from Opotiki, in relation to Sunday's incident.
He faces a charge of assault with a weapon, relating to vehicle police say was driven at people during the large fight at two houses in Goring St on Sunday night, in which Joe Collier, 22, was killed.
It comes after a 34-year-old man was earlier arrested and charged with the murder of Mr Collier.
Police say Mr Collier's body has been returned to his family following a post-mortem examination.
Police also clarified that the incident on Sunday was not a "street brawl", but those involved were known to each other, and from two neighbouring houses on a back section at the end of a shared driveway.
"The disorder happened around those properties and at no time did it spill out on to the public street."
Police are still seeking information and asked who could assist the investigation to contact Whakatane Police on 07 308 5255. Information can also be provided anonymously to the organisation Crimestoppers on 0800 555111.
Forensic examination of the scene and interviews with witnesses will continue today, police said.
Meanwhile, seven people were arrested and a man was hospitalised with head and leg injuries after disorder in Opotiki today.
Police responded to reports of disorder in the Bridge St area shortly after 11.30am, Area Commander Inspector Kevin Taylor said.
Six men and one woman were arrested as a result, he said.
"It is important that there is trust placed in the police investigation into Joe Collier's death and we appeal once again for calm," Mr Taylor said.
"The actions of a minority of people are doing nothing to assist the family, the wider community of Opotiki or the investigation process."
Mr Taylor appealed to the community to remain calm.
"We fully appreciate that this is an emotive time for the community of Opotiki and it is clear Sunday night's incident has caused some tensions in the town."
The 20-year-old will appear at Whakatane District Court, while the 34-year-old is due to appear at Rotorua District Court.
Next story: Man killed in Opotiki named
- APNZ