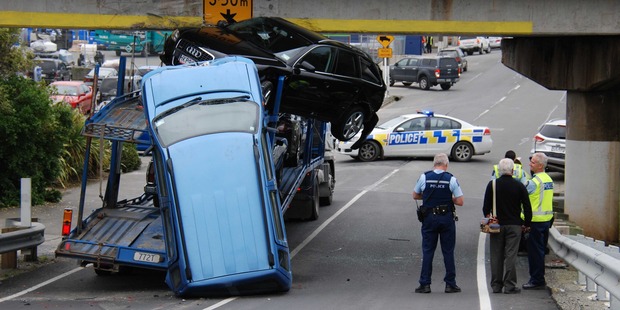 The driver of a transporter truck which slammed into an overbridge in Oamaru may yet face charges in relation to the crash.
Two cars, one a black Audi, were shunted off the back of the double-decker truck and another was badly damaged when truck hit the rail bridge on the Humber St bridge about 12.30pm today.
"He just got it wrong,'' Oamaru Constable Dean Paterson said.
"He's made a mistake with his height and the clearance of the bridge.''
The rail bridge allows vehicles up to 3.5 metres tall to pass under it. Mr Paterson estimated the truck and its load would have been about 4 metres high.
Enquiries into the accident were continuing and a decision over whether to prosecute the driver would be made at a later date, he said.
The truck, owned by New Zealand Vehicle Deliveries Transport Ltd (NZVD), had minor damage to its trailer.
The bridge was inspected by KiwiRail structural inspectors from Dunedin but appeared to be unscathed.
The three damaged vehicles and two others were cleared by 1.30pm with help from the New Zealand Fire Service and a forklift driver from a nearby business, Mr Paterson said.
PTS Logistics, NZVD's parent company, declined to comment on the crash last night.
- APNZ