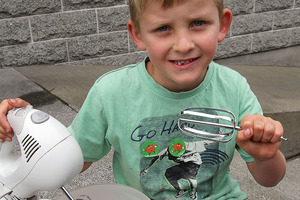 A Christchurch 5-year-old got his hand stuck in an electric beater this morning, in a painful baking mix up involving his older brother.
Marshal Forrester was going to bake a cake with his brother Carson and sister Sadie when the accident happened.
Marshal was putting the beaters into the machine when his older brother, Carson, turned it on. His hands were pulled through the beater attachments, and stuck.
His mother, Kirsty Forrester, turned the machine off and tried to free his hand.
"I panicked. I couldn't move it, so I called 111. It looked pretty horrific. I thought it would come out in two pieces," she said.
Soon Mrs Forrester found herself surrounded in the kitchen by three firefighters, the paramedics and her mother, who was there to look after the kids if Marshal needed to go to hospital.
Mike Bowden, the Wainoni Fire Station manager, was there.
"We got all this flash gear out, then another firefighter and myself actually pulled the beaters apart and freed his hand manually," he said.
Anthony Earl was the other firefighter who helped in the rescue of the boy's hand.
"The mother had three wee kiddies there, she was very distressed to see her boy in pain. It definitely wasn't her fault. The wee boy was very stoic, he didn't cry," said Mr Bowden.
Once Marshal's hand was free he was checked out by the paramedics and his GP.
"They were happy that his hand was okay," said Mrs Forrester. "He [Marshal] was pretty upset, he's usually quite chatty but I think he's in shock."