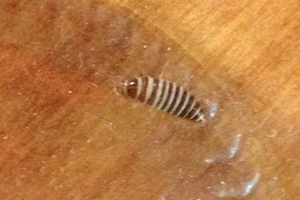 A foreign live insect larva that could have terrible effects on New Zealand agriculture was the last thing Richard Master expected to find in his tobacco pouch.
The live Trogoderma variabile, commonly called a warehouse beetle, was found by Mr Master in a 30g pouch of Park Drive Mild last Saturday - after he had smoked three quarters of the pack.
Warehouse beetles are pests of stored products such as grain, seeds, cereals, legumes and nuts, and the particular species found by Mr Master is foreign to New Zealand.
The larva crawled out of a cigarette he was rolling, Mr Master told the Herald. He purchased the cigarettes from Caltex Waipukurau in Central Hawke's Bay
"I just noticed something crawling out and thought, 'That's not right'."
His partner, Jill Aspeling was disturbed by the find. Ms Aspeling grows her own grain and was concerned about the bug's origins and any biosecurity impacts it could have.
Mr Master contacted the Ministry for Primary Industries (MPI) and was advised to freeze the bug for 48 hours to kill it, and then sent it to them on Monday.
MPI scientists positively identified the beetle on Thursday, said Mark Bullians, Surveillance and Incursion Investigation manager Plants and Environment.
"This is an insect that we don't want to establish in New Zealand," he said. "The Ministry gets interceptions like this from time to time, not necessarily in tobacco, but in various imported goods.
"While we are investigating, a find of a single insect like this is unlikely to present a huge biosecurity risk. New Zealand has a number of stored products pests already established in New Zealand."
He said MPI was working with Mr Master and the tobacco company to determine the level of biosecurity risk presented by the larva.
Mr Master and Ms Aspeling said the reaction they received from British American Tobacco was strange.
"They kept calling us and calling us and calling us trying to get us to send the packet to them," Ms Aspeling said.
"They said that they really wanted it, and even offered to fly to us and pick it up, but we had already sent it away to MPI."
Mr Masters said a company staff member told him the tobacco had been packed in Holland.
British American Tobacco New Zealand spokeswoman Susan Jones confirmed the company had received a complaint from a consumer about a warehouse beetle that was found in a pouch of tobacco.
"We are not aware of warehouse beetle being found in tobacco in New Zealand before. Although this appears to be an isolated case, we are taking it very seriously," she said.
"We apologise to this consumer who bought a product that isn't of the high quality they would usually expect. We contacted the consumer several times requesting the packaging in order to get the correct product batch number as this will assist both us and the Ministry for Primary Industries."
Report unusual biosecurity finds to MPI on 0800 80 99 66.