Anti-terror laws mean data from any device can be downloaded with no explanation of suspicions.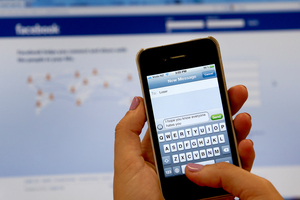 Thousands of Kiwis travelling to Great Britain face having their phones seized and personal data downloaded and stored by police.
The issue has been highlighted by David Anderson, a British reviewer of terrorism laws, who is calling for checks to ensure they are not being abused.
A privacy group in this country says the process could intimidate people entering the country and fears any searches of Kiwis may restrict the ability of people trying to open bank accounts or do business abroad.
Under UK counter-terrorism laws, officers do not need to show reasonable suspicion for seizing electronic devices and can retain information for "as long as is necessary", the Daily Telegraph reports. Police or border staff can question and hold someone while they check whether they pose a terrorism risk.
Data downloaded can include call history, contact books, photos and who the person is texting or emailing - even if the individual is then immediately allowed to proceed.
Up to 60,000 people a year are stopped and examined as they enter the UK - nearly 100,000 Kiwis travelled there in the past year alone - but it is not known how many of them had their phone data taken.
Council for Civil Liberties spokesman Batch Hales said any information gained by British police on Kiwis would "certainly be relayed back to New Zealand and to the other countries".
"It might restrict the ability of people to open accounts or do business in Britain, if their files had the information that they had been searched by police. The information gathered could not be challenged in any way, because the traveller would not know what had been collected."
The process might lead to travellers deleting information from their phones, which could lead to authorities suspecting they were hiding something.
It could intimidate people entering the country, as did anti-terrorism measures at US airports after the 9/11 attacks, Mr Hales said.
Some people had started avoiding travelling through the US to get to the UK and he suspected people might start trying to avoid UK airports.
"It's the complete negativity by people shown in Customs ... the whole attitude. You have to wait in long queues, you've got grumpy suspicious officers who will not engage with you in any way."
The UK's Iris recognition system, which checks scans of passengers' irises against copies held on the agency's database, had already rattled travellers.
It has since been phased out after glitches in the system.
Kensington Swan privacy lawyer Tim Cochrane said New Zealand police or Customs did not have the same sorts of sweeping powers to seize phones from anyone entering the country.
"They need to have reasonable cause to believe that someone's actually committed an offence or are going to ... Customs officials could in certain circumstances have good grounds to believe, based on someone's criminal history."
A police spokesman said cellphones and cellphone data could be seized under the Search and Surveillance Act, but a warrant had to be obtained.
A Customs spokesman said the agency could examine phones and seize them if they contained evidence of an offence or contained prohibited items.
A Foreign Affairs spokesman said it was not aware of any complaints being received from New Zealanders about the UK process.
Sweeping powers
* UK police or border staff can hold and question any traveller for as long as they see fit, without explaining why.
* They can seize electronic devices, including phones, and download data.
* Nearly 100,000 Kiwis travelled to the UK in the past year.